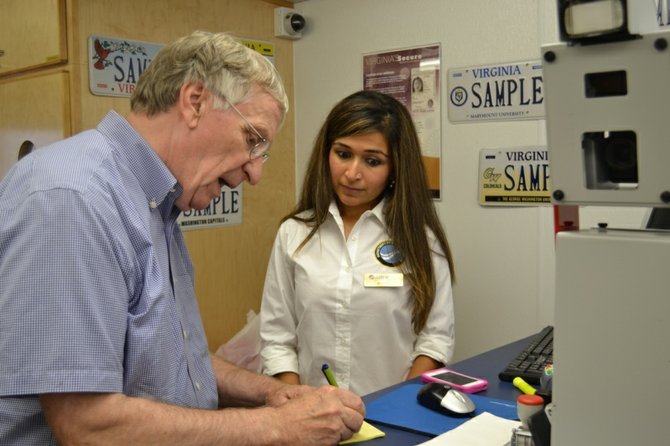 Del. Ken Plum (D-36) helped launch a new partnership between DMV's mobile services and the Reston community during a visit to the Reston Town Center on Wednesday, July 18.
DMV's mobile offices, called DMV 2 Go, travel the state bringing services directly to busy Virginians at businesses, government complexes, college campuses, military bases, assisted living facilities and more.
DMV 2 Go first visited Reston Town Center in March, serving more than 75 customers. Thanks to that success, DMV 2 Go will now be providing regular services every other month. At the most recent visit, staff served nearly 100 customers. Del. Plum first toured the mobile office during a visit to downtown Richmond when DMV 2 Go was open for business to serve legislators outside the General Assembly building. "I saw then what a great and efficient service this mobile office is, and I'm so delighted to see it serving customers here in Reston," said Plum. "Northern Virginians always appreciate the opportunity to save a trip, especially when it concerns government services they need."
DMV 2 Go will be visiting Reston Town Center again on Sept. 19 and Nov. 20. The mobile office will be parked outside the Pavilion from 9 a.m. to 4 p.m. 2013 dates are being finalized.