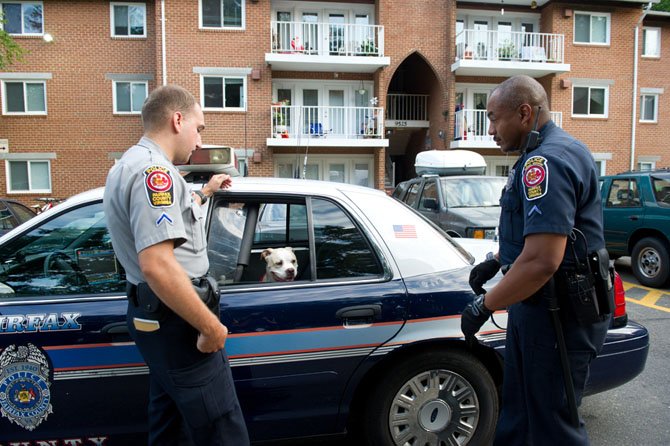 Centreville — When the call came from dispatch late in the Tuesday July 17 shift, Animal Control Officer Kim England turned her truck towards Centreville, to respond to a suspected "hot" or rabid skunk. A woman was behind her townhouse, returning a garbage can to her rear door and she came upon a skunk. The skunk chased her, the woman shrieked, the skunk stopped running and turned away. The woman ran into her home and called the police.
Photo Gallery
CV Animal Control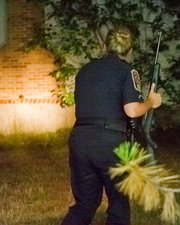 Click Photo for Flash
While the perception that Animal Control officers are "just" dogcatchers persists, their scope of work and their qualifications are much broader. Animal Control officers must meet the same standards as police officers, and must graduate from the police academy. In addition, they receive special training and certification from the state of Virginia.
The 24 Animal Control officers in Fairfax County and their supervisors are responsible for patrolling 399 square miles of Fairfax County, enforcing county and state animal-related laws, dealing with sick and seriously injured wildlife, including euthanizing those too seriously injured to survive, investigating animal cruelty complaints, investigating dog attacks or bites to residents or animals, capturing unconfined or loose domestic animals, and remove wildlife that have snuck in to residents' living spaces. Animal Control officers deal with a variety of wildlife on a regular basis, including poisonous and non-poisonous snakes, bats, skunks, opossum, foxes, raccoon, groundhogs, rabbits, deer, squirrels, birds, horses, emu and the occasional iguana.
AS ENGLAND pulls up to the address and parks her van, she gets her .22 rifle out, "Better be ready," she said, anticipating that the skunk is rabid and in the furious stage of the virus — attacking anything in its path. She interviews the woman who called in, the "witness," and proceeds to walk around the back of the townhouse block to search for the skunk. It is about 9:45 p.m., and England relies on the flashlight in her left hand to search. In her right hand is her .22 rifle. If she finds the skunk and it exhibits rabid behavior, England will use the .22 to euthanize the skunk on the spot.
When England finds the skunk it is foraging at the back of an adjacent townhouse. The skunk looks up, as England approaches it stops and raises its tail. England stops. The skunk waits a bit, then moves on to forage in another spot. England follows and observes the animal for about 15 minutes. "It's nice to see a healthy one for a change," said England. She leaves the skunk to its foraging. No action is needed because the skunk is healthy, exhibiting no signs of rabies (inability to eat, "drunkenness," continuous spraying, rage). "We're not in the business to kill healthy wildlife … or to remove healthy wildlife from the population," said England's supervisor, Sergeant Elizabeth A. Williamson, who arrived on scene to support England. Being able to distinguish between a sick and healthy animal is a critical skill for Animal Control officers, "There's no reason to kill a healthy critter," said Williamson.
EARLIER IN THE SHIFT England drove to Centreville to help a groundhog stuck in a chain link fence. The homeowners couldn't get it out and they didn't want to cut the fence fearing that it would become a gateway for other wildlife into their yard. England assessed the groundhog's health, was concerned that its neck appeared to be swelling but did not detect any major injuries and asked the homeowner for some Pam — kitchen oil spray. She pulled on her gloves, held the groundhog firmly and sprayed the animal's neck and the fence liberally. She gave a gentle pull and the groundhog came right out. It was a little dazed, almost got itself stuck in the fence again, but then found another way out of the yard and raced off. Had her arrival been delayed because of another case, it is likely that the groundhog would have been too swollen to extract from the fence. To England, the best part of the job is when she can help animals like this groundhog: "They're helpless, like children, they don't have a voice."
England says that the flip side of urban sprawl is that we have infringed on the native species in this area. The laws the county and state have implemented, that Animal Control officers enforce, were created to provide protection to both wild and domestic animals and to mitigate the risk of disease transfer among animals and to humans.