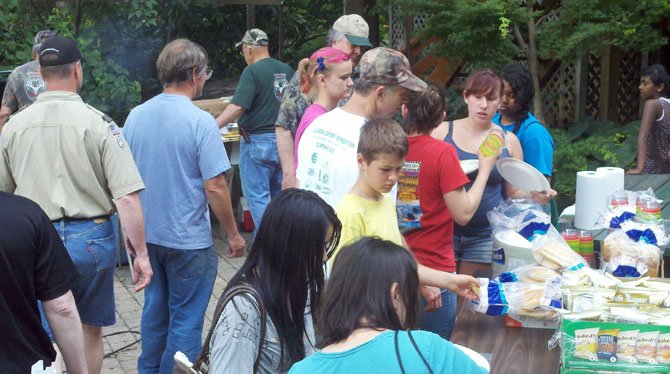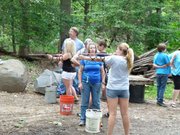 On Sunday, June 3, the Appalachian Bowhunters Association (ABA), a northern Virginia group established in 1987, hosted over fifty young people during its bi-annual Youth Day held at the home of Byron and Cheryl Wates, 13212 Wates Spring Place in Clifton. Seventeen ABA members volunteered their time to produce the event.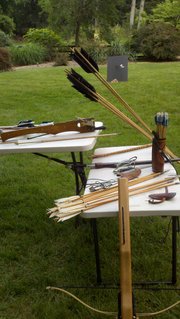 The "A-word" ("Awesome!") and exclamations like, "Hey—I hit the bull's-eye!" rang through the shaded woods. At stations scattered about the Wates' lush five-acre property, the 8- to 18-year-olds learned archery history; basic archery shooting form and techniques; where to shoot deer for quick, humane kills; bloodtrailing; and how to safely use treestands to ascend the Wates' towering tulip poplars.
The weather was perfect for an afternoon in the woods—and a cookout that featured the expected burgers and hot dogs, but also superbly prepared venison, bear, caribou, and smoked trout. A tour of the Wates' home, which boasts spectacular taxidermy mounts from North America, Europe, and Africa, followed. The oohs and awes could be heard all afternoon as they toured the home. One guest said, "this is like a museum of wildlife".
"It's so rewarding to share with such enthusiastic young guests the traditions and skills we've developed over the years. Perhaps some of them will eventually join us in quietly, discreetly, and safely managing Fairfax County's burgeoning deer herd and feeding northern Virginia's needy through the Hunters for the Hungry program," ABA President Fred Ansick of Clifton said.