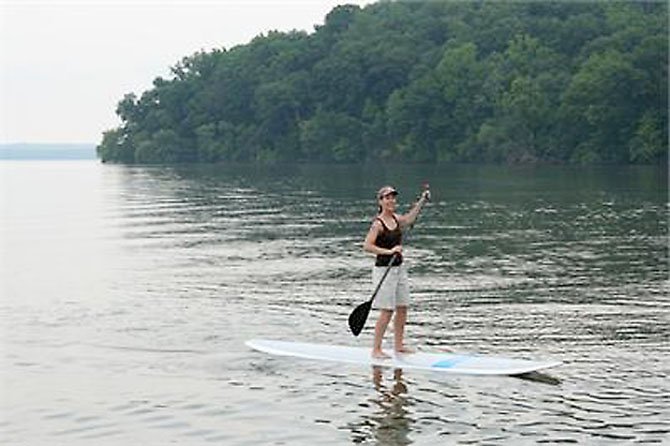 Stand Up Paddle Boarding (SUP) is the newest thing in paddle sports and is growing fast. Now you can try it out locally: Pohick Bay Regional Park in Lorton is the only public park in Virginia that rents paddle boards. So, now for the same price as renting a canoe or kayak for an hour, you can try this new sport. The boat rental operations are open from 10 a.m. to 6 p.m. on weekends and holidays until Oct. 8, 2012.
"Over the last 10-15 years, kayaking has grown rapidly in popularity and kayaks are still our most popular boats to rent. Paddle boards may be a similar trend in the future with more and more people becoming familiar with them," said Paul Gilbert, Executive Director of the Northern Virginia Regional Park Authority.
For residents of Fairfax, Arlington or Loudoun Counties or the Cities of Alexandria, Falls Church or Fairfax it is just $8.50 per hour including paddleboard, paddle and life vest. For residents of all other jurisdictions it is $9.50 per hour. Canoes and kayaks are available at Pohick Bay Regional Park for the same prices.
Pohick Bay Regional Park is located off U.S. Route 1 on Gunston Road. The address is 6501 Pohick Bay Drive, Lorton, VA 22079.