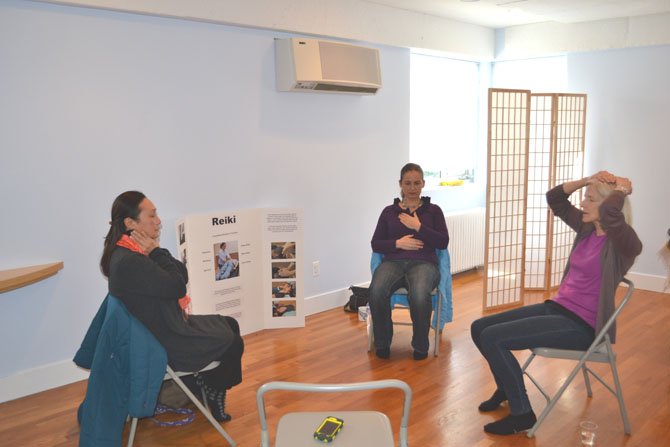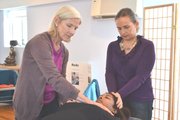 "May I touch you?" asks Marion Werner, a willowy woman with shoulder-length blonde hair. Her hands descend lightly on her patient's chest.
This is Reiki, a decades-old, Japanese mind-body technique used for relaxation and stress relief that is gaining acceptance in the United States. During a session, a client lies on a massage table, fully clothed. Practitioners rest their hands on or just above the client's body, palms down. They use a set of eight to 12 hand positions, each held for about two to five minutes.
While some healthcare professionals dismiss the practice as quackery, major medical centers including those at the National Institutes of Health (NIH) and George Washington Hospital's Center for Integrative Medicine now offer it to patients, and medical schools have integrated mind-body courses into their curriculum.
Reiki is credited with promoting healing and addressing a host of ailments from post-traumatic stress disorder (PTSD), depression and anxiety to infertility, heart disease and the side effects of cancer treatment.
"A relaxed body and mind gives us a foundation for healing," said Springfield, resident Christine Mosley, a Reiki master who also practices in Fairfax Station.
However, practitioners don't claim to be healers. "It's like when you get a cut, the body responds and heals the cut. You might get stitches to help the healing, but your body is actually doing the healing," said Werner, a Reiki master in Chevy Chase. "It is a capacity that we're all born with but, stress can make it difficult for the natural healing process to work. Reiki treatment encourages relaxation and balance in the system."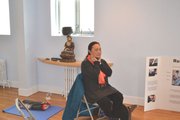 SOME PRACTITIONERS believe that Reiki is a mechanism for tapping into a universal energy that supports the body's natural ability to heal itself, but this notion is not commonly accepted among physicians in the United States.
"In China and Japan they know it works and they don't care how it works," said Dr. David Rosenthal, medical director of the Leonard P. Zakim Center for Integrative Therapies at Dana-Farber Cancer Institute in Boston and a professor of medicine at Harvard Medical School. "In this country we have to show not only that it works, but how it works. … I think the evidence is getting there, but I don't think it is totally there yet."
Reiki can be given to those who are dying and to their families. "It can help impart a sense of peace and acceptance," said Naning Sugeng, a practitioner in Potomac, who, along with Werner and Mosley, offers free services to cancer patients and wounded veterans.
Comfort for America's Uniformed Services (CAUSE), a non-profit organization that offers respite to wounded members of the military, provides free Reiki treatments to battle-weary soldiers and their family members and caretakers. "It is so gentle that it can be used on shrapnel wounds and recent amputations to improve wound healing and relieve phantom pain," said Mosley who is also the coordinator for CAUSE's Reiki program at Fort Belvoir in Virginia.


PRIVATE SESSIONS with a Reiki master can cost between $75 and $100 an hour. The profession is not regulated, but traditional Reiki training and certification has three levels of expertise. While classes for the first two levels can be completed in two-day classes, preparation for the third, or master, level can take years.
Locally, Reiki treatments are offered at the Pain and Palliative Care Service at the NIH Clinical Center in Bethesda, Inova Loudoun Hospital's Life with Cancer program and the Center for Integrative Medicine at George Washington University Hospital in Washington, D.C.
Still, doctors say more large-scale studies are needed before Reiki becomes a mainstream practice. "Not only is there not enough research, but a lot of the Reiki research has been criticized for not being rigorous enough compared to the standards that are in place to study other medical interventions," said Dr. John Pan, founder of the Center for Integrative Medicine at the George Washington University Medical Center in Washington and a faculty member at the George Washington University School of Medicine and Health Sciences.
Researchers at George Mason University conducted a study of patients in Inova's Life with Cancer program to determine whether yoga, Reiki, or meditation would help alleviate symptoms of chemotherapy-induced peripheral neuropathy (CIPN).
"At the conclusion of the study, each group, with the exception of the control group, showed [improvement], but the results were not statistically significant," said Paul G. Clark, PhD, LCSW, assistant professor of social work. "What we did learn was that these therapies are worth studying on a larger scale."
In 2011, Rosenthal co-authored a study of 18 men with prostate cancer and found that Reiki helped ease their anxiety. "It does relax people, it does decrease stress acutely," he said, adding that Reiki can be an alternative for patients who have an aversion to relaxation techniques such as massage or acupuncture. "There are some people who do not like their bodies being rubbed and do not like needles being put into their skin."
Reiki is also credited with calming jittery preoperative patients. Kate Snipes, a 41-year-old wife and mother of two, received Reiki treatments before and after a prophylactic double mastectomy. She recalls feeling tranquil post-treatment, void of the anxiety that had gripped her before the procedure.
"I felt more at peace with [the surgery]," said Snipes. "I felt pain relief, and I felt more comfortable and relaxed in the parts of my body that were kind of tense."


REIKI IS GENERALLY SAFE and NIH's National Center for Complementary and Alternative Medicine says that that no serious side effects have been reported.
"It won't cause harm, but some people may not respond to it," said Pan. "It is an individualized process. What works for one patient may not work for another."