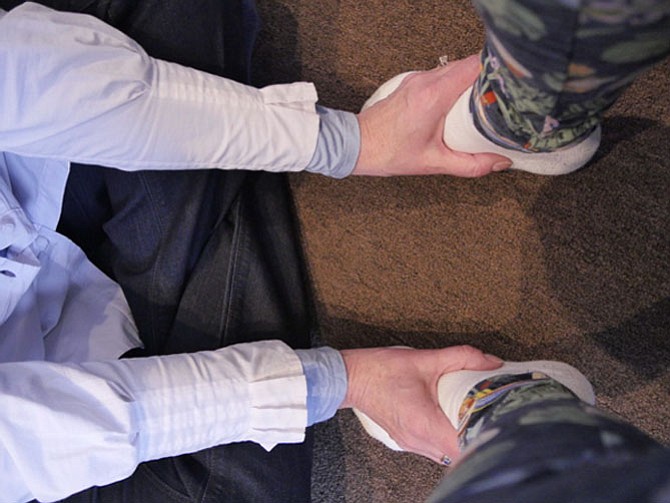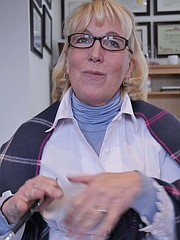 Mara Benner turns on the radio to calming background music and invites the client to lie down on the massage table in her Four Directions Wellness office on Mt. Vernon Street. She is beginning a one-hour Reiki session. Benner explains Reiki is one of the ancient healing techniques that she offers. "It is the process of being able to work with healing energy." Her brochure explains, "Reiki is an ancient Japanese healing modality that promotes homeostasis or the balancing of our innate healing energies with our bodies."
Benner places a purple, lightly weighted blindfold over the client's eyes to block out the light so that he can enjoy deep relaxation. She places a warm blanket over the client. Benner's voice is soothing as she says, "Take a deep breath. Breathe out very slowly. Again." She explains, "I go to the feet first," as she places her hands gently on the client's feet. She brings the tension down to the feet by rubbing her hands from the knees down the patient's legs.
Benner says these techniques link body, mind, spirit and emotions to help you listen to your inner voice. She says, "We tend to dissociate these from each other." In order to provide this integrative approach, her own training has been extensive, including two years of seminary for the spiritual and study in China for Qigong. Benner explains before we had doctors, all cultures had an approach to healing. "They all get to the same place. It's about how to calm your mind. I am fascinated by the different techniques. "
In addition to Reiki, Benner uses a variety of different techniques including meditation, reflexology, Yogic Chakra healing and coaching health life or spiritual. She says that most people are stuck in that "fight or flight" stage where the body tenses, "you know waiting for the next lion." The next phase is the 'rest and digest.' "What ancient modalities do is get the person to recognize when they are in this phase."
She says that in the D.C. area, "We are always go-go-go and our minds are always running. We are particularly stressed from the workplace." In addition, there is an increasingly massive amount of information for a person to absorb. Between 1950-70 information doubled. "Now it is every two years. The implication is that various jobs could become obsolete overnight. "That is stressful."
Benner says most people come to her for coaching. Transitions in relationships, career, a specific health issue or loss of a loved one can be challenging. She uses the technique that is best for that day. "It might be an hour of Reiki or meditation or they might want Chakra healing. Chakra identifies blockages of the energetic centers (or chakras) tied to specific organs and key parts of the body. Some people take only a couple of sessions and others take longer. "It depends on how well they are already in tune with themselves."
Benner moves to the client's shoulders, again placing her hands gently. She says a lot of people hold tension in their shoulders. "What do you feel?" The client feels a deep sense of relaxation and some tingling. Benner says some people are so relaxed they fall asleep.
Benner is affiliated with GW Center for Integrative Medicine where she trains medical students.
She says the hospital trend is to provide complementary and alternative medicine (CAM) such as acupuncture, Reiki, homeopathy, and energy healing therapies to treat the whole person. She added over 800 hospitals nationwide use Reiki, and patients report sleeping better as well as less pain in the short term.
Four Directions Wellness also offers Wellness 2018 Winter Classes and a complimentary meditation on the second and fourth Monday of the month. Benner was named Best in Business Rising Star by the Alexandria Chamber of Commerce in October.
People at Work is a weekly column featuring people in the community doing their jobs. Suggestions can be sent to Slrbc@aol.com.