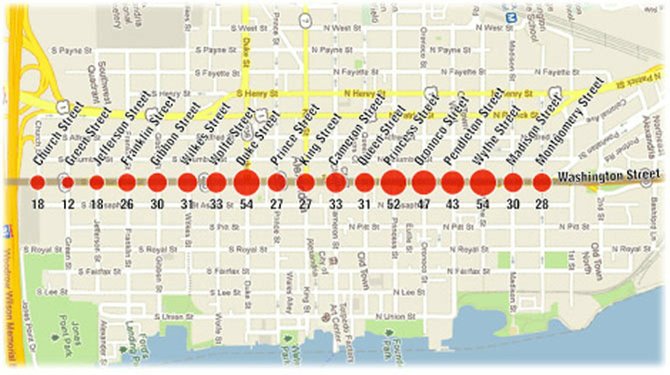 For years, Washington Street has been one of the most dangerous roads in Alexandria.
According to statistics from the Alexandria Police Department, the stretch of the George Washington Memorial Parkway that cuts through Old Town has logged about 600 accidents in the last five years. That's why the Traffic and Parking Board approved new restrictions last year that would limit where motorists can make left turns. Although the restrictions were supposed to be in place in early 2012, city officials now say the process has been delayed because they are waiting on equipment.
"We've pushed our vendors to deliver as soon as possible," said Abi Lerner, deputy director Transportation and Environmental Services. "We don't have the ability to predict when it's going to arrive."
Two signal modifications have already been made at Wythe Street and First Street. Drivers have a new protected left turn at Wythe, meaning that a green arrow has been installed to let drivers turn as traffic is stopped in the other direction. A flashing yellow arrow has also been installed at First Street, which already had a protected left turn signal. The new flashing light indicates that drivers can make a left turn although they should proceed with caution. Several signs have yet to be installed forbidding left turns up and down the traffic-clogged corridor.
"It's not as easy as installing new signs," said Bob Garbacz, division chief of transportation. "We needed to do signal modifications first so that drivers don't have to drive long distances before they're able to make left turns."
Two more signal modifications need to be made before the signs can be installed. One is at Queen Street, which will allow southbound drivers to turn left. The other is at Princess Street, which will allow northbound drivers to turn left. Once both of these new signals have been installed, city officials say, the restrictive signs will be installed within days. It's an effort supported by the Police Department, which has long viewed the stretch of road as a problem.
"It's safe to say that more than half of those are caused by people trying to make left turns," said Deputy Chief Blaine Corle. "The problem is that the people in the inside lane will wave a car on and then another car will come zooming down the HOV lane and then — wham!"
The effort does not have unanimous approval. Some have criticized the initiative as an inconvenience to Old Town residents, who will need to make several maneuvers to avoid turning left during rush hours. Others have denounced the plan as a way to make it easier for commuters to travel between Fairfax County and Arlington County.
"All this will do is make it easier for people to speed through town," said Rosemont resident Katy Cannady, who opposed the change. "It helps people who don't live in Alexandria at the expense of those who do."