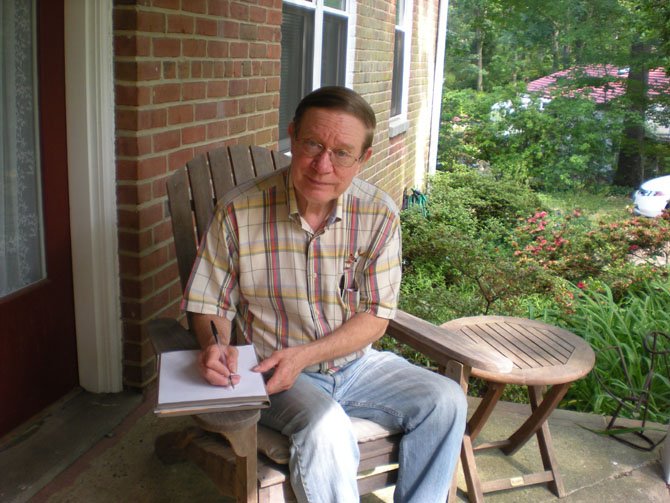 How to fill the void after the dog dies: That was the dilemma facing Peter Lattu. For several years, Lattu had taken his border collie on three long walks a day. But many empty hours stretched before the Alexandria resident when the dog was gone. "I needed things to do," said Lattu.
After finding the book "A Poem a Day," Lattu and wife Alison began reading a poem a day, usually at breakfast. In January 2006, he joined Tuesdays at Two, an Alexandria writers' group that requires two original pieces of writing a week. "Poetry was one of the things I wanted to do when I retired. At first I was very active sending things out. I had lots of rejections." Then the Mount Vernon Gazette and the Alexandria Gazette Packet accepted some poems. Lattu has since been published on the Sheltered Poet blog and in two anthologies of writings by the Tuesdays at Two writers' group.
A resident of Alexandria since 1979 and of Tauxemont since 2002, Lattu's poems are often about local scenes such as The Athenaeum, River Farm, The Virginia Florist Window, Del Ray and Market Square.
In spring 2006, Lattu started reading poems in seniors' homes. Every two weeks, he reads at three seniors' homes on Monday afternoons and one on Tuesday mornings. "My readings at seniors' homes keeps me reading poetry because I always have to find new poems," said Lattu. Since Valentine's Day, Lattu has shared the program at Woodbine with members of Tuesdays at Two. "I believe poetry is meant to be spoken. Poetry has been an oral tradition since Homer and Beowulf."
Once a month he facilitates a poetry Readaround at Sherwood Hall Library. At Hollin Hall Senior Center, working with Tony Lapallo, Lattu has organized poetry programs sometimes with music and dance. These programs have featured the poetry of The New York School, the Harlem Renaissance, Civil War poetry and the French symbolist poets of the late 19th century.
LATTU WAS LOOKING for an opportunity to cook. On hearing that the Mount Vernon Presbyterian Church needed kitchen help with the Agape meal, he volunteered. "What they really needed was a cook. I'd never cooked for 50 to 100 people before but I was willing to give it a try. Now I cook for the Friday evening Agape meal that serves people with special needs. This meal, organized by Nancy Noel, also appeals to Lattu. "I like cooking. I seem to have a talent for it and people like what I cook. I feed off that, too."
While Lattu juggles cooking and poetry, he is also involved with two Focus Series in Alexandria in Mount Vernon and with the monthly Second Thursday Concerts at the Athenaeum. He has helped to present music programs at St. Elmo's in Del Ray, the Lyceum and First Night Alexandria.
As if he didn't have enough to do, last year Lattu volunteered to serve lunch to homeless people once a month at the Route One Community Kitchen (R.O.C.K.). Here, he's only serving, not cooking. Lattu's days are now full to bursting with things to do.