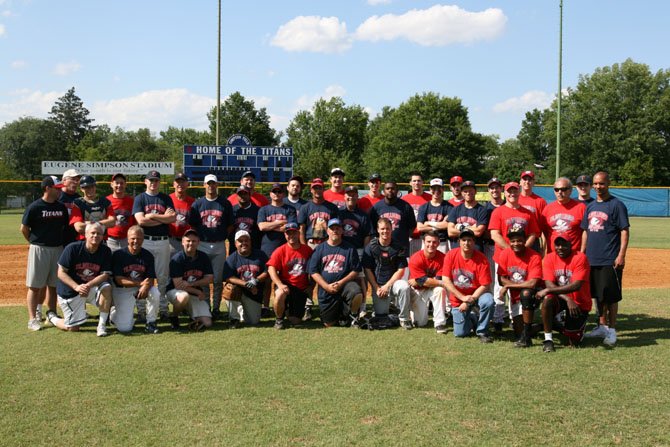 The T.C. Williams High School baseball program played host to the inaugural Titans Alumni Baseball Game June 2 when a total of 36 players reunited with old friends and played a seven-inning game before a sellout crowd at Eugene Simpson Field in Alexandria.
Returning players ranged from a member of the original 1965 Titans to players from the class of 2011, two former Hammond Admirals, one father and son duo and three sets of brothers that included current T.C. Williams athletic director Steve Colantuoni ('74) and his brother John ('78), who served as managers of the alumni squads.
A scoreless top of the first inning was thrown by Jon Safren (Hammond '71), who was reunited with his old battery mate John O'Connor (Hammond '70). In the bottom of the inning the crowd came to their feet when O'Connor's double to the gap in left centerfield was followed by a home run over the right field fence off the bat of Tim Brown ('05). The Titan Blue team prevailed over Titan Red by a score of 10-3.
The event was made possible by the support of a number of local businesses and community members including Pioneer Roofing, Jack Taylor's Alexandria Toyota, Simpson Development, Jen Walker, Valens Physical Therapy, Sally and Sean Murphy, Carlyle Club, Gerald Schwartz, Esq., Frank Fannon, Hard Times Café, Allegro LLC Electrical Service and Evening Star Cafe.
The 2nd Annual Titan Alumni Game will be played on June 1, 2013. For more information, email oak646@aol.com.