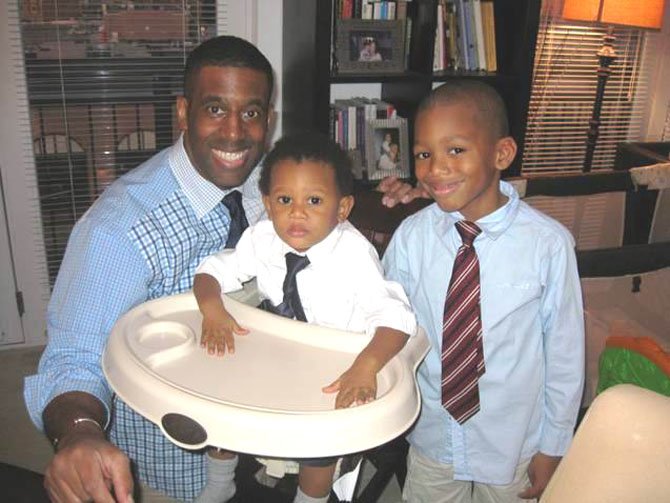 Wanting the best for my two sons yet having concerns about raising them properly, my wife and I looked into various parenting education programs offered through Fairfax County. This is how I discovered the Fathers In Touch Program. The class appealed to me because my parents divorced when I was 11-years-old, and my dad was never really a significant part of my life growing up.
Because of my strained relationship with my dad, I needed to learn how to be the best Father I could be. I mean . . . they don't give you a manual for raising your children along with the bill from the hospital.
When my boys grow up they won't be boys at all anymore. They will be young men . . . whether I have taken on the responsibility seriously enough to raise them or not. I developed a current desire for a future relationship I would have with my boys where they would want to be around me, not just because they feel obligated to look after me but because we have a terrific relationship.
I took so much away from the Fathers In Touch Class. I was challenged not only by the instructors but by the other dads as well. The instructors led us through sometimes difficult discussions about communicating with our sons and daughters, helping them to understand why we have to discipline them, and even explaining to them that everyone makes mistakes - even their fathers. We learned how to place value on our children's feelings while we taught ourselves the importance of saying - "I'm sorry".
We learned why it is so important to not only be physically present but mentally engaged with our sons and daughters. The dads in my class discussed leaving work problems at work so as to leave and preserve true quality time with our children.
At the same time we were learning to give unconditionally to our children we were learning the very hard lesson of giving to ourselves. We realized with our instructors' help how severely important it is for us as dads to spend some part of each week and each day focusing on ourselves. Nurturing ourselves is not something grown men talk about at all; however, we learned that if we don't, we cannot be the best dads we need to be.
From the other fathers, I gained some needed perspective. Some of the dads were dealing with some really challenging circumstances and situations. One dad who I got to know fairly well only saw his children once every week for a few hours over the weekend. On top of that, he was absolutely exhausted from work when he saw them. That night after hearing my classmate speak, I became so thankful that I could go home every night and kiss and hug my boys. I've often felt very tired myself when the weekend arrives, but I have learned that my boys do not care about that. They want their dad to play and I learned that I owe them that every single time. What they're going to remember and what I'm going to remember are the experiences we had together.
I came away from the Fathers In Touch Class learning so much.
I took away - among other things - that fatherhood is not a sprint for a few years. Being a father is a marathon for life. I make mistakes. We as dads make mistakes. But I am committed for the long haul. I am not only determined to get this thing right, but I am determined to change in order to get it right. I love my boys that much.
I wish things had been different with my father. That's what I can't control. I wish my dad had done this or that, but that's in the past. What we can do, as fathers now, is make sure that isn't perpetuated.
Moses Eric Cobb, a financial planner who works in McLean, volunteered to take Fairfax County's Fathers in Touch classes. He lives in Alexandria with his wife and two sons.