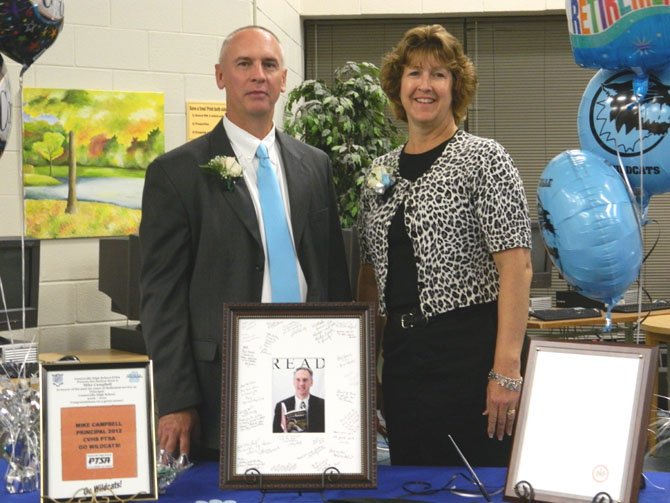 To the Editor:
Centreville High School and the CVHS PTSA would like to thank all of the parents, students, staff and faculty who attended the Principal's Open House on Tuesday, May 29, to pass along best wishes to Mike Campbell and his wife, Becky, as Mike prepares to retire from Fairfax County Public Schools.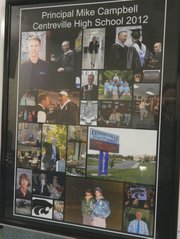 Several elected officials were in attendance: State Sen. Dave Marsden; Fairfax County Supervisors Michael Frey (Sully) and Pat Herrity (Springfield), and Fairfax County School Board members Kathy Smith, Ryan McElveen, and Ilryong Moon.
FCPS representatives included Dr. Jack Dale, superintendent; Linda Burke, assistant superintendent for Cluster VII; Eric McCann, director for Cluster VII; and Peter Noonan, FCPS assistant superintendent of Instructional Services and past CVHS principal. Several other FCPS principals and leadership team members were also in attendance.
Supervisors Herrity and Frey presented Principal Campbell a resolution from the Board of Supervisors honoring him, and the PTSA presented him with a personalized commemorative brick — honoring the principal while also taking part in the school's fundraising efforts for CVHS's new turf fields, for which installation began on June 6. The PTSA also presented Campbell with a large photo poster featuring snapshots from his career with FCPS, and a signature mat surrounding a photo of him as CVHS principal.
The CVHS community wishes Principal Campbell the best in his new job as principal at J. O. Johnson High School in Huntsville, Ala.
Centreville High School
And CVHS PTSA