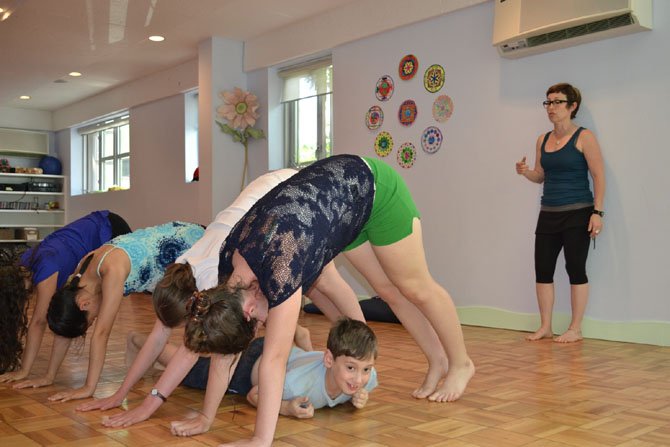 Potomac — "I'm bored, there's nothing to do," is a phrase often uttered by children during the summer. The end of the school year leaves many parents scrambling for activities to keep their young ones active and stimulated. Experts say it is important to plan activities to keep children safe and out of trouble.
"Adult supervision is important, especially for the younger age groups. Make sure there is a good balance between fun and learning in the activities chosen," said Chantilly resident Maria Londono, a mental health therapist for Fairfax County Community Health Care Network and Molina Health Care in Falls Church, Alexandria and Reston. "Children should also have some down time, so don't kill yourself trying to fill every minute of the day with activities."
WHEN IT COMES TO CAMPS, think outside the box. While traditional day camps often fill as soon as registration opens, specialty camps such as cooking camps, yoga camps, sports camps and art camps frequently offer more availability.
"With specialty camps you can have a clear idea of what your child will be doing and your child will know what to expect," said Linda Feldman, director of Budding Yogis camp. "Like traditional camps, specialty camps usually include crafts and outdoor activities."
"Specialty camps provide an opportunity for campers to explore particular areas of interest and foster discovery, adventure and learning," said Jim Supple, director of summer programs at St. Stephen's & St. Agnes School in Alexandria.
George Mason University's Summer Camps and Youth Programs 2012 offers a variety of activities ranging from sports to academics.
"Each of [our] camps is run individually and all of the camps are listed on our website," said Angelique LeBlanc, an event coordinator at the school's office of University Information. "One of the most popular of our camps is the George Mason University Forensics Camp. Also popular are all of the camps that are held at the aquatics center, and our performing arts and music camps."
"Keep in mind that summer is a time for fun and a break from the routine. Whatever activities parents plan for their children, they should be enjoyable and stress-free."
— Susan DeLaurentis
KEEP LEARNING IN THE MIX. The National Summer Learning Association reports that most students fall more than two months behind in math skills during the summer. Ron Fairchild, the association's chief executive officer, encourages parents to "make sure kids have access to high-quality programs that help them keep learning during the summer."
Susan Goldberg, principal of Potomac Elementary School in Potomac, says that educational tools are all around. "Make math a part of everyday experiences. There are interesting and fun websites, games and problem solving activities that can insure that your child continues their love of learning," she said.
Don't forget literature. Experts say that children should read every day. "If you take time to read alongside or to your children, they will make it a life-long habit, and they'll enrich their lives at the same time," said Goldberg.
Take advantage of summer programs at local libraries. "Check your local libraries for story times and arts-and-crafts-related activities. Most libraries and community recreational centers have programs full of stimulating and age-appropriate activities for children and their families during the summer," said Londono.
LEAVE TIME FOR FAMILY ACTIVITIES. "Keep in mind that summer is a time for fun and a break from the routine," said Susan DeLaurentis, director of counseling at St. Stephen's & St. Agnes School. "Whatever activities parents plan for their children, they should be enjoyable and stress-free. When it's too hot outside, or on a rainy day, pitch a tent in the living room and go 'camping' indoors. Have a bag ready, filled with new board games and books."
Summer fun doesn't have to be expensive. "There are always low cost or free activities for children during the summer," said Londono. "[Many] area museums are free of cost. [Planning] a picnic at a park and having children involved in the preparation of the picnic basket can be fun. A family bike ride, fishing, camping can be all fun family-oriented activities that don't necessarily involve a lot of spending. Including children in the preparation of meals can be a fun and helpful activity year-round because it gets them interested in food and keeps them involved in helping around the house."