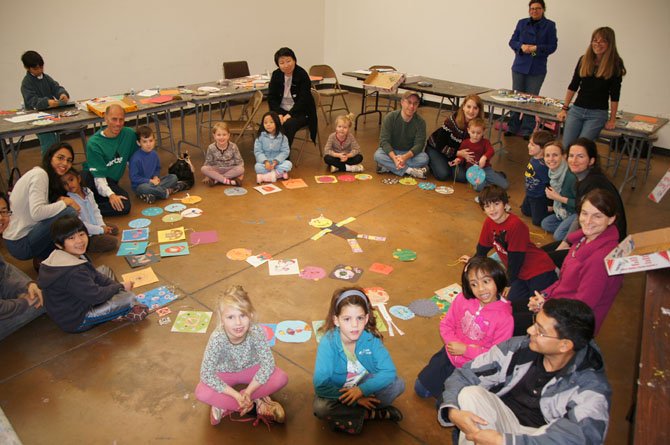 Molly McAlister enjoys the freedom of summer, but there are three words she dreads hearing: "Mom, I'm bored." Creating activities to keep her three children busy during the summer is a task she enjoys, but it isn't always easy.
"I can't afford to send all three children to camp," said McAlister who lives in Centreville. "I love taking the kids swimming or on bike rides, but sometimes I run out of ideas."
Many parents allow "screen time" to keep children happy, but it's important to interact with them as well.
"Some parents will give their child an iPhone or an iPad to entertain them," said Michele C. Garofalo, Ed.D., assistant chair, Department of Counseling and a professor of Psychology at Marymount University in Arlington. "Interacting with children and being involved with them rather than giving them electronic activities is important. It is important for kids to figure out how to interact with their parents and friends."
"Summer is a wonderful time for parents to get to know their kids and interact with them in a different way," said Garofalo, who lives in McLean.
One way that families can spend quality time together is by creating art, said Dabney Cortina of the McLean Project for the Arts in McLean. In addition to summer camps, McLean Project for the Arts offers family workshops where parents and children create art together.
"The whole process of creating is so important to a child's development and it's so important to be with your children and create something together," said Cortina. "I see the smiles as the children and adults put their heads together to create things. I think it's also a wonderful release for adults."
COMMUNITY SERVICE PROJECTS are a great way to spend time and help children learn during the summer. "Let them spearhead a yard sale," Garofalo said. "Kids gather the items, make flyers and put the flyers in everyone's mailbox. They can donate the money to charity so you can tie in a service project."
Spend time in the kitchen. "You and your children can do a lot of baking and donate the items to a homeless shelter," said Garofalo. "With parental approval and guidance, kids can also do dog walking or water flowers for neighbors who are away."
For families who want to spend time in nature, Len Annetta, Ph.D. Professor in the College of Education and Human Development at
George Mason University suggests the Manassas National Battlefield Park. The park, which is home to more than 160 species of birds, has been recognized National Audubon Society as an Important Bird Area.
"Our area has so much history," said Annetta. "Most of these place don't cost money but can immerse students in something educational, which is really critical."
For parents who plan a summer of varied activities, specialty camps as well as parent-child activities are worthy options. Even one or two sessions of week-long specialty camps can add to a child's summer.
Deb Burger of the Potomac Horse Center in North Potomac, Md., said they offer camps where children learn equestrian skills and are given information about the history of horses, breeds, colors, markings, anatomy, horse care and grooming. "Campers also do horse-related arts and crafts," said Burger. "They have a good time, make friends, increase their love of horses and improve their ability to ride. Kids come from Maryland, Virginian and even overseas."
Tony Castrilli, Director of Public Affairs for Fairfax County says the county is offering nature camps during the summer.
In Alexandria, Morgan Maloney runs the Arcadia Farm Camp for Arcadia Center for Sustainable Food and Agriculture in Mount Vernon. "Campers learn about farm life first hand," she said. Activities include collecting eggs tilling soil and planting seeds.