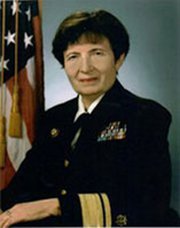 On Friday, June 15, Rear Admiral Faye Glenn Abdellah EdD, RN, FAAN has been inducted into the American Nurses Association's (ANA) Hall of Fame.
This award, which was created to recognize the lifelong commitment of individual nurses to the field of nursing and their impact on the health and/or social history of the United States, is fitting for a woman who dedicated her life to nursing and, as a researcher and educator, helped change the profession's focus from a disease-centered approach to a patient-centered approach. Her Patient Assessment of Care Evaluation method to evaluate health care is now the standard for the nation.
Born in 1919, Abdellah served for 40 years in the U.S. Public Health Service (PHS) Commissioned Corps, a branch of the military, and was the first nurse officer to achieve the rank of two-star rear admiral. In 1981 U.S. Surgeon General C. Everett Koop named Abdellah Deputy Surgeon General, making her the first nurse and the first woman to hold the position.
As a public health nurse, she focused much of her attention on care of the elderly. She was one of the first to conduct research in gerontological nursing, and to influence public policy regarding nursing homes.
Abdellah continued to work as a leader in the nursing profession into her eighties. She has been recognized with 77 professional and academic honors and was inducted into the National Women's Hall of Fame in 2000.
Abdellah now sees her work in action on a daily basis, as she has resided in Arleigh Burke Pavilion, a skilled nursing and assisted living residence in McLean, for more than four years.