Alexandria — Chief of Police Earl L. Cook is the most recent member of the Alexandria Police Department to graduate from the FBI National Academy Program at Quantico.
Cook graduated Friday, June 8, from the 249th Session and was one of 264 law enforcement officers who graduated from the 10-week program. The session started on April 12, and included men and women from 48 states, the District of Columbia and 24 other countries.
Cook is the 15th member of the Police Department's command staff to graduate from the FBI National Academy since 1990 and is one of 12 graduates currently serving with the Alexandria Police Department.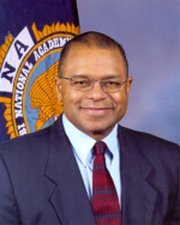 The National Academy Program, held at the FBI Academy in Quantico, offers 10 weeks of instruction in law, behavioral science, forensic science, understanding terrorism and terrorist mindsets, leadership development, communication, and health and fitness. Training for the program is provided by the FBI Academy instructional staff, Special Agents and other staff members holding advanced degrees.
The academy was created in 1935 with 23 students in the first class. It has grown over the years to the current enrollment of more than 1,000 students a year. The FBI National Academy is one of the premier law enforcement academies in the world.