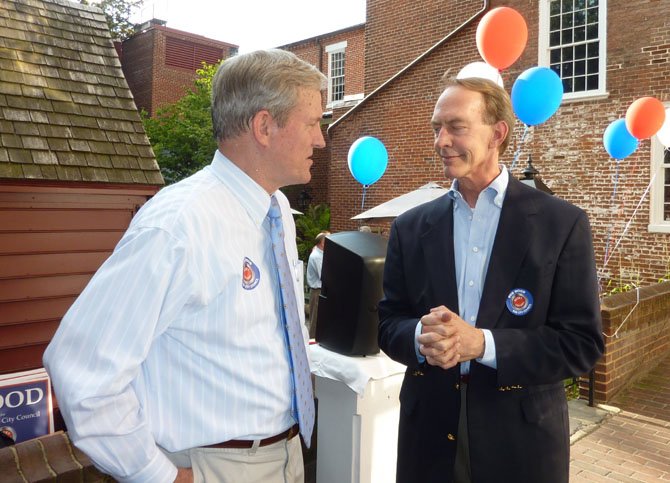 Alexandria — Billed as "The Rally to Reset City Hall," Republican candidate John R. "Bob" Wood formally launched his campaign for City Council June 14 with a kick-off reception for more than 120 supporters in the courtyard of Gadsby's Tavern.
"I am most thrilled by the make up of the group that was there to support me," said Wood, a graduate of the U.S. Military Academy at West Point with a degree in economics. "Democrats, Republicans and independents were all there. While I am running to be part of the solution, it's important to me to do it as part of a team."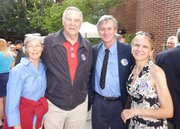 A retired U.S. Army Lt. General, Wood is an anti-terrorism expert and served as the U.S. Army's strategic planner for combating terrorism in the wake of the 9/11 attacks on the United States. Currently the managing partner of Old Town consulting firm Star Strategies Group, he was a member of the Alexandria Waterfront Plan Work Group appointed by Mayor Bill Euille.
"What resonated with me most during this process was the lack of constructive dialogue the city had with the citizens," Wood said. "Analysis was outdated or absent, public input was dismissed, financial analysis abbreviated and debate stifled. That's a rush to failure on the part of city planning."
Wood explained that his campaign slogan, "RESET City Hall," stands for Respect, Excellence, Service, Economy and Trust, a message that resonated with Alexandria resident Kevin Petit.
"While not normally a 'joiner' or 'get off the couch supporter,' I was disappointed by the parochialism and deafness of council members during the waterfront meetings," Petit said. "Bob Wood was a measured, balanced moderator during that process, so when I learned he got fired up enough to run to 'Reset the Council,' I got fired up for him."
In his campaign kick-off remarks, Wood recalled the leadership advice he was given when he first attained the rank of general.
"General [Dennis] Reimer, Army Chief of Staff at that time, told me my job as a general was to listen carefully, think deeply and when necessary ask the right questions," Wood said. "It wasn't to lord over my troops but instead to listen carefully."
Wood's decision to run for City Council stemmed from his disillusionment in the direction he sees the city going.
"The city I live in and love is on the wrong path," Wood said. "Mistakes were made in the planning process of the Waterfront and the Beauregard Plans and the city attitude towards me personally and other citizens made me decide to run so that I can be part of the solution. RESET is not just an empty slogan. It is a statement of principles that I believe should guide the actions of our city government."