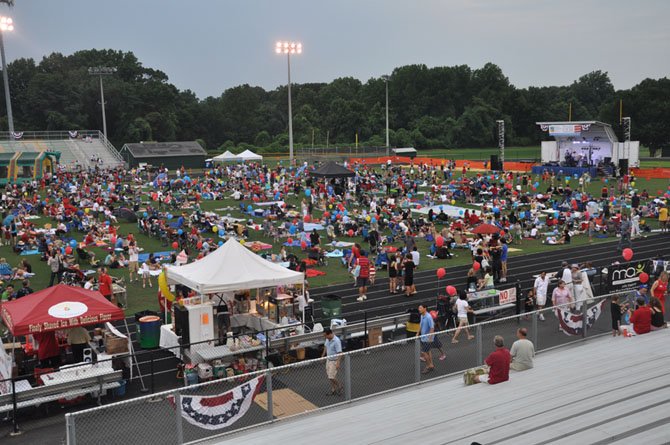 McLean — This summer in McLean will start off with an annual celebration and conclude with a revamped version of one of the community's signature youth events. The annual Fourth of July fireworks show will take place Wednesday, July 4 at Langley High School, with grounds opening up at 8 p.m.
Concerts in the Park
The McLean Community Center will host Concerts in the Park, a series of musical events featuring a variety of international acts every Sunday in McLean Central Park, starting at 5 p.m.
July 1- Russia, Washington Balalaika Society Chamber Orchestra
July 8 - Hawaii, the Aloha Boys
July 15 - Klezmer Music, Alexandria Kleztet
July 22 - Germany, Alte Kameraden
July 29 - Uganda/Africa, Kinobe
"The fireworks at Langley are without question, my favorite summer activity in McLean, our family looks forward to it every year, the one year we tried to go into Washington, D.C. the kids wouldn't hear of it," said Chad Arnold of McLean. "It's just a perfect setup, you can spread a blanket on the lawn, or sit in the bleachers for a more panoramic view, it's a great choice to have."
The annual celebration will be hosted by the McLean Community Center, and members of the American Legion will be present handing out American flags to those in attendance. The Naval District of Washington's Naval Color Guard will present the colors prior to the event.
Fireworks will start at 9:15 p.m. Smoking, pets, sparklers, alcohol and outside fireworks are prohibited. More information is available at www.mcleancenter.org.
The McLean Community Center will also host a revamped version of its annual Block Party Aug. 25 from 4 to 10 p.m. While many elements, such as the McLean Teens Got Talent exhibition will be the same, there will be some new additions.
"We moved it to August and into the evening hours to make it more of a signature event that everyone can come out and enjoy," said Ryan Brookes of the OFTC. "We're working on getting a big headlining band to play the show, and we're hoping the event serves to raise awareness of the place."
The Block Party traditionally takes place in October, but Brookes said the earlier date will allow the event to take advantage of later sunlight, as well as give them a better chance for good weather.
"We're hoping it will be a little warmer, because although we've had good luck before, it can be hit or miss," he said. "It will be a little warmer for the dunk tank, which is good for me, because it got a little cold in the tank last year. Plus we'll be able to light the stage and make it a true nighttime concert event."