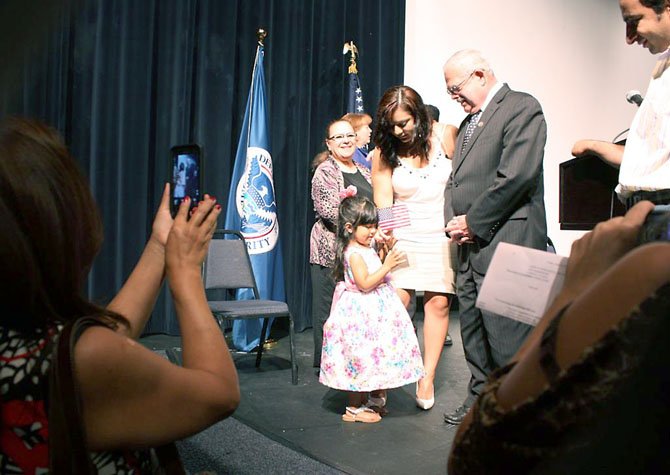 "You will help freshen America and help us remain a strong and dynamic society," Congressman Gerry Connolly told hundreds of new U.S. citizens and their families June 22 during a naturalization ceremony in a packed auditorium at Robinson High School.
Connolly delivered the keynote address and led the new Americans in the Pledge of Allegiance at the event where Kimberly Zanotti, Washington Field Office Director for the U.S. Citizenship and Immigration Services (USCIS), administered the Oath of Citizenship to 280 immigrants from 63 nations, while their families and friends looked on with pride. The new U.S. citizens were feted by the Fairfax County Police Honor Guard's presentation of colors, while Officer Genevieve Kirk led them in singing the National Anthem, and President Obama welcomed them in a video message.
"America is a place of opportunity where you can pursue your dreams and raise your families without fearing that somebody's government is going to tell you what to think, how to express yourself, what to believe, or what to worship," Connolly said. "That is the beauty of our country. It is a place for those who share our love of freedom. Many of you come from countries where you've experienced suppression of thought and suppression of your right to participate in your government. You will appreciate our freedoms and you will help strengthen America."
Congressman Connolly told the new citizens, "We are a work in progress, America is never perfect. Our great American debate is always about doing better to achieve the ideals embodied by our Founding Fathers in the Declaration of Independence and the Constitution. Now you are part of it. You get to help us achieve those ideals."
As opposed to conventional smaller naturalization ceremonies, often held in bland government meeting rooms, USCIS has started holding larger ceremonies in Northern Virginia to administer the Oath of Allegiance to new citizens. The events are festive occasions with family members photographing and videotaping their new citizens, children holding small American flags, and the auditorium brimming with patriotic fervor.
Connolly strives to participate in naturalization ceremonies in Northern Virginia as much as his schedule allows. "Every American should try to attend at least one of these ceremonies. It renews one's sense of patriotism and serves as a reminder of how lucky we are to be Americans," he said after the ceremony.