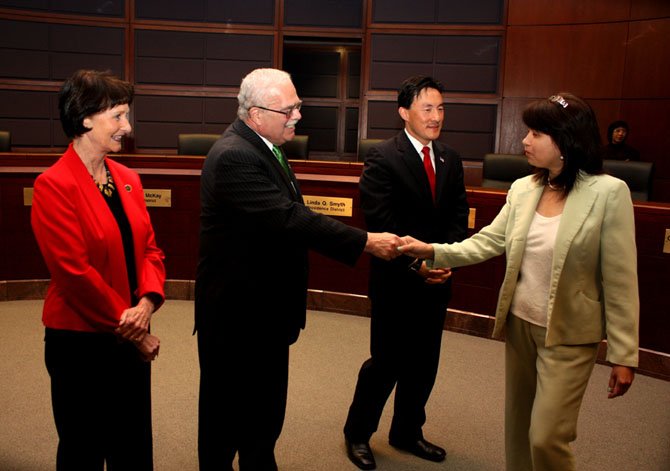 Congressman Gerry Connolly (D-11), Fairfax County Board of Supervisors Chairman Sharon Bulova, and Virginia Delegate Mark Keam (D-35) participated in a naturalization ceremony on Friday, May 24, at the Government Center where 100 people from 38 nations were sworn in as United States Citizens.
The new citizens, accompanied by many family members, filled the Government Center's auditorium for the naturalization ceremony held by the U.S. Citizenship and Immigration Services. Congressman Connolly, Chairman Bulova and Delegate Keam addressed the group, each describing in their words what it meant to be an American.
The new citizens also heard from an official of USCIS and local members of the community who themselves became naturalized citizens some years ago.
Many of the new citizens and their families clutched small American flags.
At the end of the ceremony, Connolly, Bulova, Keam and Claudia Young, USCIS Washington Field Office section chief, personally congratulated each of the new citizens.