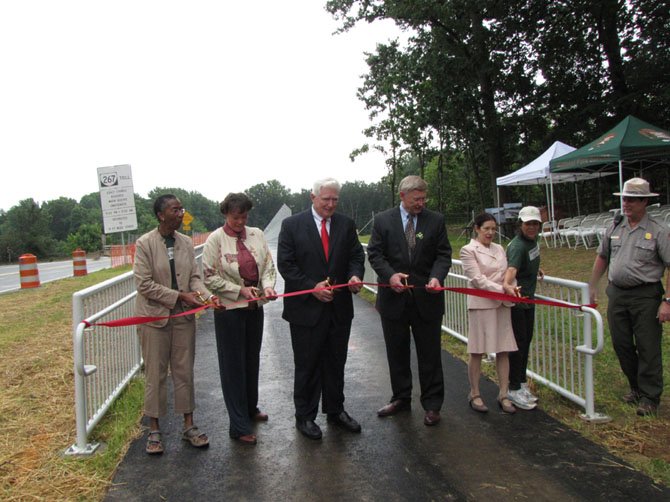 Congressman Jim Moran (D-8) spoke at the ribbon cutting ceremony for the new pedestrian bridge over the Dulles Toll Road, connecting the two main facilities at the Wolf Trap Performing Arts Center.
"With roughly 500,000 visitors expected to visit Wolf Trap this season, the new pedestrian bridge is a welcome addition to the area," Rep. Moran said. "Beginning today, Wolf Trap patrons, cyclists and pedestrians can safely travel between the Barns and Filene Center."
Since 2004, Moran has worked to secure more than $2 million in funding for the project. Last year, the Federal Highway Administration (FHA) released the remaining $1.5 million funding installment.
Construction began in November. Prior to the pedestrian bridge, Wolf Trap's Barnes and Filene Center were separated by a narrow road with no sidewalks. The pedestrian bridge will also enable residents to travel to Metro stations currently under construction at Tysons Corner.
"Today's opening shows what government can do for a community when local officials listen to and work with their constituents," Moran continued. "This is the kind of thing we should be doing all over the country and I'm sure glad we're doing it here."
Wolf Trap Performing Arts Center was established in 1971 to bring important cultural, theatrical, and educational works to the National Capital Region. Built on land donated by Catherin Filene Shouse, the Filene Center houses a 6,800-seat indoor/outdoor theater showing an average of 90 performances each year. The Barns at Wolf Trap, a 382-seat indoor venue, serves as a year-round center for the performing arts.