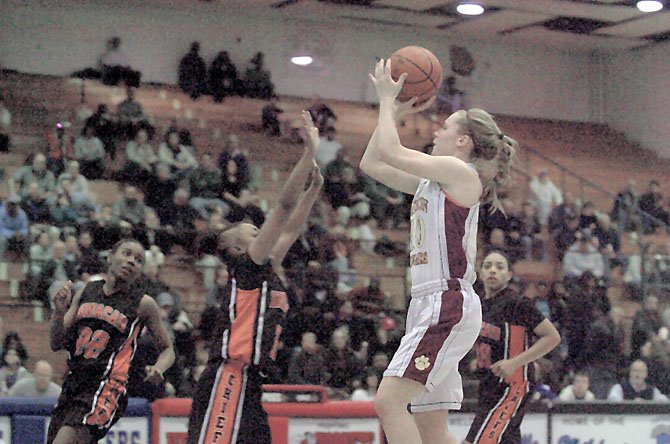 There were less than four minutes remaining in last Friday night's Virginia State AAA girls' basketball quarterfinals playoff game between Oakton High and Monacan High of Richmond. A basket by Monacan had just tied the score and Oakton needed to answer. And who better to answer the call than senior guard Caroline Coyer, one of the region's best all-time players, who has made her share of big baskets in leading the Cougars to state playoff appearances in three of her four high school years.
Coyer, poised with her dribble near the top of the key, made a quick move right than pulled up for an 18-footer which went into the basket to give Oakton a two-point lead with 3 minutes, 48 seconds left to play. The clutch field goal began a 9-0 Oakton scoring spell which clinched the game in a 73-65 Cougars' playoff victory which took place at Robinson Secondary.
"When it gets down to crunch time and you're a senior on the floor, you know you have to make a shot like that," said Coyer, who followed her go-ahead basket with a deep three-pointer off the right wing a bit later to give her team a commanding 63-56 advantage with just over two minutes remaining. "You have to have confidence because you've been there for four years."
The win improved Oakton's record to an incredible 29-0 on the season. The Cougars, who earlier last week had captured their third Northern Region tournament crown in four years with a victory over West Springfield at Robinson on Feb. 27, were set to play a state semifinals game versus Woodside High (Newport News) on Wednesday night, March 7 of this week at the Siegel Center on the Virginia Commonwealth University campus in Richmond. A win there would put Oakton into Friday night's state title game.
Coyer, in the win over Monacan (Central Region), scored a game-high 27 points, 15 of those coming in the fourth quarter with the game in the balance. Twin sister Katherine, the region tournament MVP, scored 22 points. The Cougars also received solid scoring contributions from junior center Elizabeth Manner (9 points, game-leading 11 rebounds) and freshman shooting guard Karlie Cronin (6 points, 4 rebounds). Helen Roberts, a junior guard, added five points off the bench and sophomore guard Torri Marquis scored four points. Caroline and Katherine Coyer both had eight and seven rebounds, respectively.
MONACAN, with two outstanding senior backcourt players in Gabby Harris (22 points) and Raven Williams (18 points), jumped out in front 11-6 five minutes into the game and had its biggest lead, 17-10, following a conventional three-point play by Williams with 29 seconds remaining in the opening quarter.
But one of the game's key baskets came moments later when Oakton's Roberts nailed a three-pointer off the left wing to get the Cougars within 17-13 before the quarter ended.
That basket by Roberts started an 11-0 Oakton streak which saw coach Fred Priester's team run the court in outstanding fashion and make hard, controlled drives to the basket as Oakton moved ahead 21-17 a few minutes into the second quarter. Caroline Coyer, during that stretch, scored consecutive baskets – a driving close range shot off the left side and a medium range pull-up jumper off the fast break – to put her team ahead 19-17.
Monacan would regain the lead later in the quarter, 24-23, before the Cougars scored six of the first half's final eight points to take a 29-26 lead at the intermission. Katherine Coyer converted two free throws with 19 seconds left to finish the first half scoring.
OAKTON'S ADVANTAGE improved to 32-26 early in the third quarter before the upset-minded Chiefs scored the game's next 10 points to go ahead 36-32. A driving basket off the left side by Katherine Coyer followed by two free throws by Caroline Coyer tied the game at 36 nearly halfway through the third quarter.
Moments later, after Monacan took a 38-36 lead, Oakton got back-to-back three-point baskets from Katherine and Caroline to help the Cougars regain the lead at 42-38 and force a Chief's timeout. Manner, when play resumed, scored on a rebound follow-up after her own miss to make it 44-38.
But, in the back and forth contest, Monacan outscored Oakton 10-2 to go ahead 48-46 before Katherine Coyer, came up with a huge play in the final seconds of the third quarter when she scored off the left side in traffic while being fouled. Her ensuing free throw made it 49-48 Oakton with one quarter to play. Katherine Coyer scored 12 third quarter points.
There were a couple more lead changes over the first four minutes of the fourth quarter before Caroline Coyer's important basket with just under four minutes left broke the 56-56 deadlock and gave the Cougars the lead for good.
Over the game's final three-plus minutes, Oakton converted a perfect 12-of-12 from the foul line. For the game, Caroline was 9-of-9 from the line and Katherine made all seven of her tries.
"You really have to buckle down the final few minutes and focus," said Katherine Coyer, of the Cougars' ability to hit big shots, both from the field as well as the foul line, in the game's down stretch. "At the end we knew they would foul us. Elizabeth Manner and Karlie [Cronin] hit big foul shots."
Katherine said Oakton beat a quality team in Monacan.
"They have a lot of real good athletes," she said. "Something you don't always see in the Northern Region or the Concorde District is players who drive the ball to the basket and shoot real well."
Caroline Coyer said Oakton handled the late game pressure well.
"I think that's our experience [as a program]," she said. "We've been in state tournaments before and have the experience of knowing what to do."
It's a sweet feeling for Oakton to be playing in the state tournament after missing out last year as a result of a region tournament semifinals loss to West Springfield – the first and only defeat for the Cougars all season.
"It's awesome," said Caroline, of Oakton set to play in the final four in Richmond. "You want to go out on a good note as seniors. But no matter what happens we're going out on a good note."
"It's definitely exciting," added Katherine. "Caroline and I have been in two [state final four's]. It's exciting to go back again but also good to have other teammates go with us this time."