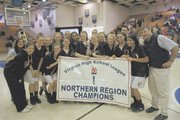 A year ago, the pressure on the Oakton High girls' basketball team continued to mount with every win. By season's end, when the Cougars lost their first and only game – at the state finals in Richmond to Princess Anne – it was heartfelt and an abrupt way to conclude what was a fantastic season.
"Last year the pressure kept building and building and the kids withstood it very well," said Oakton coach Fred Priester, whose squad finished 30-1 last winter. "Then with the loss to Princess Anne and the overflow of emotion, it was hard to accept."
This season has been different. Oh, the Cougars still win with regularity. However, they did experience a regular season setback – a four-point loss to Robinson in mid-January. And it might have been the best thing that could have happened to them.
Following a 12-0 start, the pressure of being and remaining unbeaten was ended. Since that loss to the Rams, Oakton (23-1) has played outstanding and been freed of the burden of going unbeaten.
"Losing to Robinson was really important," said Priester, of the regular season setback that ultimately proved to be a positive for the team over the long haul of the season.
The Cougars certainly looked like a light-hearted, yet still hungry team at the just completed Northern Region playoffs, in which they played at a high level throughout their four wins, including Monday night's 54-39 title game triumph over West Springfield at Robinson High School.
The championship victory earned Oakton its second straight region crown. Last year, the Cougars rode an unnerving route to the region title, having to come from 19 points behind to beat Mount Vernon in the semifinals before rallying from 11 down to defeat T.C. Williams in the finals.
This past week's ride to the title was less dramatic, with Oakton winning in fairly mundane fashion over McLean, Mount Vernon and South County before taking on and handily defeating a West Springfield team that had lost just one game all season.
"The greatest thing about this team is they believe in what we're teaching them and they'll go out and execute it," said Priester, who earned his 500th career coaching win with the championship game `W.' "I'm just proud of these kids. They've done everything I've asked them to do."
With Oakton, success starts with its outstanding defense, which once again was on display in the win over the Spartans. In all four region playoff wins, the Cougars held their opponents' scoring in the 30's.
"Definitely defense," said Oakton sophomore off guard Katherine Coyer, when asked what the key has been to the Cougars' second straight region title run. "This is like [the fourth] game in a row we've held an opponent under 40 points."
<b>AGAINST WEST SPRINGFIELD</b>, Oakton held Spartan sophomore point guard April Robinson, one of the better back court players in the region, in relative check with 12 points, which did lead coach Bill Gibson's team in scoring.
"We've been playing with and against April since she was like nine years old," said Coyer. "She's gotten a lot better and her shot is like money."
West Springfield had no other players other than Robinson finish in double figures scoring. Meanwhile, Oakton had a little bit more of a balanced attack with Katherine's twin sister, point guard Caroline, leading the Cougars with 20 points along with six rebounds. Caroline, probably the top player in the region, earned tournament MVP honors for the second straight year. Two weeks ago, she also earned Concorde District MVP accolades after leading Oakton to a finals win over Westfield.
She, like her sister, said one of the keys to beating the Spartans was slowing down Robinson.
"We knew their whole offense goes through April," said Caroline. "If we were going to beat them we had to keep her limited. We played really tough defense [in the finals]. We've been working on it all week. A lot of our people have stepped up defensively."
She said winning another title was sweet.
"I think we've continued to prove people wrong," said Coyer, of rumblings throughout the season that the Cougars might not be as powerful a team as last year's squad. "[Winning the title] means a lot. We wanted to keep the [winning] tradition going."
Katherine Coyer said the close-knit Oakton team had extra motivation to win the title game so that coach Priester could earn his 500th career win in such an important game.
"We're like a total family, always picking each other up," she said. "We wanted to win this game for coach Priester."
<b>KATHERINE COYER</b> helped Oakton get off to a good start in the finals by scoring six first quarter points as the Cougars took a narrow 13-12 lead after one quarter. Almost midway through the second quarter, the Spartans tied the game at 18 on a basket by Robinson. But a three-pointer by Caroline Coyer off the right wing started the Cougars on a 9-1 scoring spell that concluded on a Coyer follow-up basket that made the score 27-19 Oakton with 2 minutes, 36 seconds left in the half.
In the third quarter, Oakton's lead grew to 35-21 on a 15-foot straightaway jumper by Oakton senior tri-captain Marisa Mahony with 2:48 showing.
West Springfield eventually made a run, cutting Oakton's lead to 39-36 three minutes into the final quarter on a three-pointer off the right corner by Jordan Miller. But, following a timeout, Oakton scored the game's next seven points to all but put the contest away.
The highlight basket of that stretch was a driving, twisting, eight-foot bank shot off the right side by Caroline Coyer that began the scoring run. West Springfield never got closer than seven points after that. Oakton hit 10 straight free throws over the final two-plus minutes to secure the win. For the game, the Cougars made 16 of 23 free throws compared to 7-of-17 for the Spartans.
Along with Caroline's MVP honors, Oakton was also represented on the all-tournament team by Katherine Coyer (12 points) and Zora Stephenson (9 points). Oakton's Danielle Davis had a solid finals game with five points and a team-high 10 rebounds. Senior center Brieneke Matthes scored four points with five rebounds.