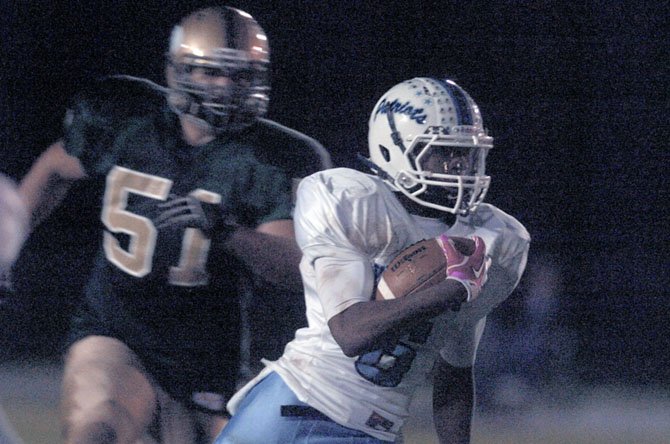 Two Langley High football players – defensive standout Marcus Harvey and two-way lineman Dylan Clemente - recently made commitments to play the sport at the collegiate level.
Both signed letters of intent at the NCAA signing period for high school athletes the first week in February.
Harvey, who played outside linebacker as a senior last fall, will attend school and play football at William & Mary in Williamsburg. The Tribe has enjoyed good success over the years under longtime head coach Jimmye Laycock, who has been at the helm of the football team since 1980.
Laycock visited Langley prior to signing week in early February to meet with Harvey and Langley head coach John Howerton, who believes William & Mary, an NCAA Div. 1A member of the Colonial Athletic Association (CAA), will be a good fit for Harvey, a solid Saxon student-athlete.
"Marcus is a very good student," said Howerton, who said other schools Harvey strongly considered included the University of North Carolina and the University of Massachusetts. "William & Mary will be a good fit for him and Williamsburg is a great area."
Howerton said Harvey, who weighs close to 200 pounds, will work hard to get bigger and stronger over the spring and summer in preparation for the college game.
"That's the case with almost anybody, needing to get bigger, stronger, and faster to go on to the next level," said Howerton. "He's excited about going to William & Mary."
Harvey, who played three varsity seasons at Langley, was a First Team All-Liberty District selection at linebacker following his senior year. He missed a couple of Liberty District games last fall as a result of suffering a concussion. In prior years with Langley, Harvey, the son of former Redskins All-Pro linebacker Ken Harvey, played in the Saxons' defensive backfield as a safety.
At William & Mary, the 6-foot-2 inch, 195-pound Harvey is projected to play at either linebacker or safety.
"He has experience at both," said Howerton. "He gives you speed you don't normally see on the edge [at outside linebacker]. He gives teams lots of trouble. Straight ahead, he can run like no one else and he has good agility."
CLEMENTE is set to play football on a partial scholarship at Ashland University (Ohio), an NCAA Div. 2 private school program which competes in the Great Lakes Conference. He will have the opportunity to earn a full scholarship with time. Clemente attended and played high school football at area private school Gonzaga High (Washington, D.C.) his freshmen and half of his sophomore season before transferring to Langley.

As a junior at Langley, Clemente started at a defensive tackle position. His senior season saw him start at both defensive tackle and on offense at right tackle.
"He'll be a good fit for them," said Howerton, of Clemente's college choice. "They really like him and his family is real connected to the school. They're from Ohio.
"He's a great kid, really hard working and does things the best he can," said the coach. "He'll be a great player for them."
Clemente, who earned All-District Honorable Mention accolades this past season, will likely play at defensive tackle at Ashland.
"He's worked real hard and he's a strong kid," said Howerton, who saw the youngster go from 175-pounds his sophomore season to 270 pounds his senior season, the result of a good weight lifting program. "He benched 330 pounds the other day, which is in the top 10 all time at Langley. He's got a great desire to do what he needs to do to get better and is one of our hardest workers. He has the mentality to be successful in college."
ONE PLAYER WITH a particularly bright football future is current Langley junior Jack Howerton, a standout left guard for the Saxons last season. Jack, the son of coach Howerton, recently earned Second Team recognition on the Virginia High School Coaches Association All-State Team at guard. Young Howerton was one of eight Northern Region football players named First or Second Team All-State.
Along with his All-State honors, Howerton was both First Team All-Northern Region and First Team All-Liberty District as a junior. He also was named First Team Underclassmen on the Virginia Prep Team.
Along with playing guard, Howerton also played at a defensive tackle position where he earned Second Team All-District status.
A 4.0 student, the 6-2, 315 pound Howerton is being heavily recruited by college programs. He made a recent weekend visit to William & Mary.
Howerton recently benched 410 pounds, an all-time school record at Langley. On the football field, the 11th grader is a fundamentally sound player with outstanding physical strength and exceptional footwork, a mandatory attribute for any lineman. He is also an aggressive player and outstanding in taking on defenders one-on-one.
Langley is renowned for sending offensive lineman on to play college football. In fact, over John Howerton's nine years at the helm of Langley football, 14 offensive linemen have gone on to play at the NCAA Div. 1 level.
Howerton excelled himself as a football lineman at both the old Fort Hunt High School in Alexandria as well as in college at Shepherd University (West Va.), where he is a member of the school's athletic hall of Fame.
Both of Jack's grandfathers, Cig Howerton and the late Jim Ford, also played offensive line positions in college – Jim at Notre Dame and Cig at Randolph Macon, where is in the hall of fame.
Ford, coach Howerton's former father-in-law, was the head football coach at the old George Washington High School in Alexandria. G.W. High was one of the schools which merged to create T.C. Williams.
Both John Howerton and his wife, Nancy, are Fort Hunt High graduates. Howerton's parents still reside in the Mount Vernon area.
In an article on VirginiaPreps.com in January, Jack Howerton talked about his family football roots.
"I have never really felt pressured to follow in my father and grandfathers' footsteps," said Howerton, in the story. "I love football and I want to be an outstanding player on my own. I am motivated by a strong desire to be the best I can be both on the football field and in the classroom. I want to go to a good college and continue to play football."
Young Jack is well on his way to doing just that.