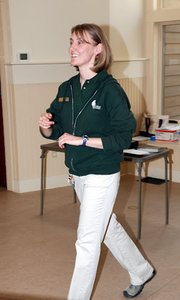 Abby Stocking had a challenge: How to educate the group in front of her that ranged in age from five years old to very mature adults. Stocking is the Environmental Education Specialist at Reston's Nature House. Her job? Present a program called "March Migration" that spoke to the movements of all animals, but specialized in bird migration.
Stocking handed out coloring tools for the young ones, shifted her analogies from the simple to the complex, moved around the room, and captured and kept the attention of all in attendance.
Those in attendance learned not only about which birds will be returning to Reston from the south, but also the birds that will be leaving Reston and heading north. After all, following a relatively mild winter, spring is right around the corner. Therefore, Stocking instructed her students about migratory flyways and also what you can do to help migratory birds. She concluded by taking all of her students out into the brisk but bright afternoon for a little practical work.