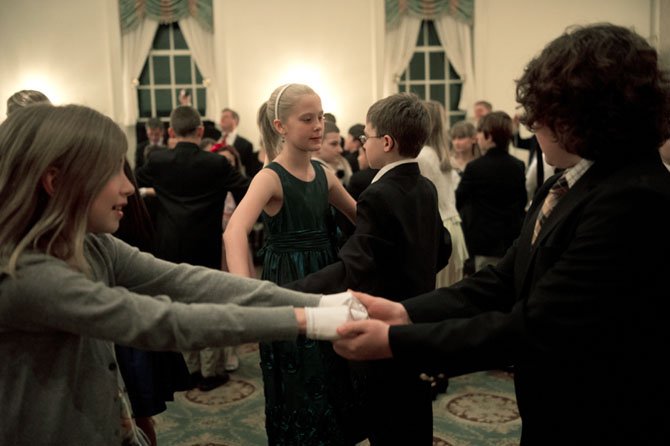 Ankles demurely crossed, the 5th and 6th grade girls sit posture-perfect in their colorful party dresses, white-gloved hands resting in their laps as they await an offer to dance.
Many of the young men, trying not slouch in their starched suits, nervously adjust their ties or smooth their hair.
When the music begins in the chandeliered ballroom of the Washington Golf & Country Club, Daniel Webb, the polished emcee of the event, gently reminds the young men to be courteous, smile and make polite conversation when asking their partner to dance.
"Gentlemen, do you ever sit down before your partner does? Never," Webb says. "You always wait until the lady is seated first."
As the students pair off to fox trot, Webb encourages the parents to join their children on the ballroom floor for the first of several father-daughter and mother-son dances.
The formal dance was the finale of the 17th annual Jon D. Williams Spring Cotillion, held at the country club on Friday, March 2. The event capped five weeks of social skills classes, including ballroom dancing, table etiquette and manners, held at Spring Hill Elementary School in McLean.

"This class is so much fun," said Natalie Hirsch of McLean, one of the instructors of the cotillion. "It's really about respect and courtesy, and social dancing is a way to teach that."
For many, the term "cotillion," conjures up an oh-so-proper scene from the Age of Innocence, where only the children of the socially-elite and privileged learn to dance and hold tea cups - pinkies properly raised.
"This misconception is far removed from the program here," said Katherine Mason, vice president of Jon D. Williams Cotillion, Inc., which holds annual classes in more than 50 cities throughout the United States. The Denver-based company, which has been teaching etiquette since 1949, instructs more than 11,000 children across the country each year, and emphasizes good manners and social skills that build confidence and character.
"In addition to utilizing dance as a tool to break down inhibitions and develop confidence, students learn essential social skills that contribute to their character and have a positive influence on their future social and business relationships," Mason said.
UNLIKE COTILLIONS OF THE PAST, the Jon D. Williams Cotillions are open to anyone, regardless of bloodline, and are limited only by class size, Mason said. Scholarships are available for the classes, which cost about $200 per five-week session, and the company encourages children with disabilities to join the classes.
"It's about knowing how to behave appropriately and feel confident in any social situations," said Suzanne Meyle, who is the instructor for the McLean classes. "Respect for others is increasingly important today, but we also want our students to have fun." The popularity of the classes has grown to the point where Meyle is considering adding classes for the next term. "We had a long waiting list this time," she said.
Social etiquette she said is really about how to be comfortable in social situations and make others comfortable around you. "It's not about being snobby or stuffy at all."
"We had a great time. I was thrilled to dance with my son at the final party," said Arlington mom, Beth Coakley. "He's learning how to be polite, and comb his hair," she said, laughing.
During the formal dance, Webb, who attended Southern Methodist University and was awarded the Dorothy Amann Award for his contribution to social justice at SMU, tells parents what their children have learned during the classes.
"They are learning to make a positive first impression, the art of shaking hands, how to communicate better - all these skills will help them when it's time for that first job interview or college admissions interview," he said.
But Matthew Loftus, 11, of McLean, isn't thinking about that first job interview just yet. "I just want to make sure I get the dance steps of the fox trot right," he said, "and not bump into anyone else." And, he admits, "It's really not so bad dancing with girls."
FOR MORE INFORMATION on Jon D. Williams Cotillion programs, go to www.cotillion.com.