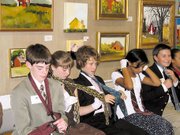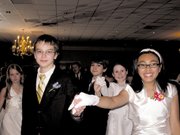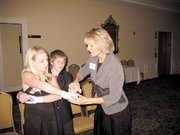 With young people texting, e-mailing and talking on their computers more and more, Jean Ann Michie thinks face-to-face communicating has become a lost art. Michie runs the National League of Junior Cotillions in Loudoun County that teaches children how to converse. She also teaches proper manners, etiquette, patriotism and how to be comfortable in social situations.
"The main manners that we teach — how to introduce yourself, table manners, being polite and kind, being sincere — they don't change," Michie said.
STARTING IN September, she will be teaching etiquette classes that show children how to be kind, fair and gracious. Students will learn table manners, door and coat etiquette, how to make introductions, even how to get refreshments for young ladies. Ladies will learn white glove manners. Guys will learn how to walk in the escort position.
"You can make an impression on someone you don't even know and brighten someone's day just with a smile," she says.
"For me, the program has been invaluable in teaching a certain air of confidence, how to treat a young woman, how to dance ballroom dancing, which is something men don't know how to do anymore," Su Carlson of Hamilton said. Her son Zach has been through three years is now a cotillion teaching assistant.
After Zach, 14, went to a 7-Eleven and held the door for two women, "the look of surprise on their faces" sold her on the program, she said. He was also the only grandson willing to dance with grandma at her sister-in-law's wedding.
The Virginia Academy Pre-Cotillion is held in Leesburg, Ashburn and South Riding. There's also a Blue Ridge chapter. The classes can have 80 students with 15-20 teaching assistants.
When students come to the first class, they will receive a booklet that has all of the etiquette taught in class. "Our hope is the parents will practice it and that skills will be pretty set in their minds," Michie said. "One of my favorite quotes is repetition solidifies new behavior."
The Pre-Cotillion Program is for grades kindergarten-fifth. In addition to teaching the values of honor, respect, dignity, responsibility, it teaches proper manners at birthday parties, sporting events, restaurants — formal and fast food.
Children do role playing with Peanuts, the Polite Elephant. "We'll show how to do things the wrong way and the right way. We're going to pretend that they're arriving at a birthday party. We tell them what to say to Mr. Peanuts," Michie said.
The Pre-Cotillion I class is for grades kindergarten-first and costs $150. It will teach basic manners in the home like appearances, introductions, table manners and what Michie calls power words — "thank you," "you're welcome," "yes sir," and "please."
The Pre-Cotillion II is for grades second-third and costs $175. This continues in the areas of introductions, sports manners and table manners. The emphasis is on making friends, keeping friends, writing correspondences and school manners. Children will learn about dining in a nice restaurant complete with reservations, menus and tipping.
The Pre-Cotillion III is for grades fourth-fifth and costs $200. It reinforces lessons learned in prior classes with emphasis on building character. There's telephone etiquette, manners in public places. Dance instruction is also introduced.
"MY MAJOR concern is respect in their own families …. We're hopefully reinforcing what the parents are already teaching at home. It really does help to have someone outside the home to reinforce them."
She said the emphasis is on age-appropriate skills like birthday party etiquette, skating rink etiquette and putt-putt golf etiquette.
The dancing classes teach fox trot, swing, cha cha and waltz. "By the time they do the third-year program, they should be able to make polite conversation with a member of the opposite sex," Michie said.
The sixth- and seventh-grade programs include rules of telephone courtesy, acknowledgement of gifts, introductions in receiving lines, polite conversation, paying and receiving compliments, sports etiquette, first impressions, dress codes for all occasions and more. Styles of dining include American, Asian and Continental, skills of being a host, a guest and other social behaviors.
"We have an Oriental Ball with Oriental food," Michie said. "They'll learn how to use chopsticks and where you place your chopsticks when you're eating."
"The main difference between the sixth and seventh grade is we have an instructional sit-down dinner," Michie said.
In the eighth-grade program, the Loudoun students will combine with the Fairfax students by having a dance and going to the theater as well as golf and tennis. A highlight of the year is a Grand Spring Ball where students get dressed up in formal attire and have a five-course dinner.
She says students will also learn the art of finger foods and toasting. "Every student gets to make a toast at his table."
Briana Stiles, 17, a senior at Potomac Falls High School, said the most useful skill she learned at the Belmont Country Club Cotillion was how to walk into a room and introduce herself to people. "Manners are really important because people judge you right when you walk in the door …. I know that kids get judged a little big harsh," she said.
A TEACHING assistant now, she said she's made a lot of friends. "Cotillion really teaches you to be mature. It's a lot of fun too, because everyone is your age."
Holly Wells, 17, of Purcellville, said the program taught her the proper way to handle certain social situations. "When you're introducing someone, when you're going to an interview, how you should look them in the eye," she said. "Good lessons that will help me later in life."
She said the best part was learning how to dance the waltz and cha cha.
Scott Miles, 17, of Ashburn, is a senior at Broad Run High School who's been with the program about seven years, starting in Louisiana. He was a student for two years and a teacher for five.
"After the first class, I fell in love with it," he said. "It teaches confidence, it teaches etiquette, it teaches ballroom dancing."