Centreville — Every year, 160,000 children worldwide are diagnosed with cancer. It also kills more children in Canada and the U.S. than any other disease.
So the St. Baldrick's Foundation has dedicated itself to funding the most promising research to find cures for childhood cancers. And a group of determined and enthusiastic local residents is helping.
On Saturday, March 17, at 4 p.m., Centreville's eighth annual St. Baldrick's Day celebration will be held at Fast Eddie's in the Newgate Shopping Center at Routes 28/29. In a cheerful, fun-filled atmosphere, participants will have their heads shaved bald while friends and families cheer them on.
Steve Ratliff of Centreville's Country Club Manor community is organizing the event with help from Pleasant Hill's Meg Crossett whose daughter Rachel died of neuroblastoma in 2001 at age 6. He's also been shaving his hair and beard at this and other St. Baldrick's affairs for 10 years now.
"It's an uplifting event," he said. "And when you go to a hospital receiving a grant for research, and see the kids firsthand, that's what it's all about — that's why we do it. I've got two, healthy children and I can't imagine going through anything like that. It's only hair; so if we keep shaving, then eventually we won't have to do it."
The St. Baldrick's Foundation began March 17, 2000, when three reinsurance executives decided to transform their St. Patrick's Day party into a fund-raiser for children with cancer. With the help of 17 colleagues, they hoped to raise $17,000 on the 17th by having each person collect $1,000 to be shaved. That event yielded more than $104,000, and a tradition was born.
The effort caught on worldwide and St. Baldrick's is now the largest, volunteer-driven, fund-raising program for childhood cancer research. Since 2000, more than 189,660 volunteers — including some 17,200 women — have shaved in solidarity with children with cancer at events in dozens of countries and in every state in America.
The result has been more than $117 million for life-saving research, plus fellowships encouraging young medical professionals to pursue careers in pediatric oncology. For more information, see www.stbaldricks.org.
In Centreville, said Ratliff, "Last year, we broke our goal of $25,000 and our 34 shavees raised $35,450. In the seven years we've done it, we've had 221 shavees and raised just over $200,000. This year's goal is also $25,000 and, so far, we have $14,000 and 23 shavees. My own goal is $1,000 and I've raised $400 so far." To donate to his efforts, go to http://www.stbaldricks.org/events/mypage/149/2012.
Brian Groves of Centreville's Woodland Glen community learned about the event from a co-worker of his who lost her son, Westfield High student Dalton Gulsby, 16, to cancer in 2010. For the past decade, he's shaved his head as his normal style; but for the upcoming St. Baldrick's event, he's let his hair grow out since September 2011 and has even grown a beard.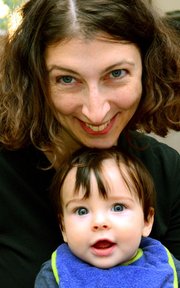 This is his first time participating and, said Groves, "I think it's great — something everybody should be involved in, in some form — whether it's St. Baldrick's Day or Relay for Life — to raise money for research and a cure." He said it's also a way to raise awareness.
"I'm sure everyone knows somebody who's had cancer, but people may not be aware of the different types and their effects on the person and their caregivers," he said. "The cure's not going to find itself — we've got to raise funds to do that."
Also a first-time shavee, Country Club Manor's Wayne Malick said it's his time to participate. "I had a stroke, 1 and a half years ago, so I'm doing what I can to give back," he said. "I've raised $175 so far and hope to raise $1,000. I think the more research to solve more diseases, the better. If we learn about cancer, we can learn about lots of other things, too."
Kevin Pearson of Centreville's London Towne community is becoming a shavee in honor of his late father-in-law. Before he died five years ago, he coached the SYS MatDogs wrestling team that prepares youth for Westfield's team.
Besides that, said Pearson, "I've known lots of people who participated in St. Baldrick's and I felt God was telling me to give back to the community and to the people affected by cancer. Childhood cancer is the least-funded cancer, and it's just sad."
He's on Team Kyle Hahne, named after a Cub Run Elementary second-grader who's currently battling leukemia. "I met him at a wrestling event," said Pearson. "He likes baseball and is a cool, little kid — and it tears my heart apart to know he's so young and is battling something so vicious. He needs a future, just like the rest of us, and this is my way of helping to find a cure so he can someday graduate high school and college."
Pearson said he can only do so much but, together, people can chip in toward the cause and have a large impact. "Our team's raised $2,700 of our $5,000 goal," he said. "But even $1 is one step closer than where we were yesterday."
Another Way to Help
An additional fund-raiser for Centreville's St. Baldrick's Day event will be held Monday, March 12, from 5-7 p.m., at the Chick-Fil-A off Route 28 and Willard Road in Chantilly. St. Baldrick's will receive part of the sales during that time.
Centreville High freshman Luke Fritzke is shaving for the fourth time. "It's a good cause, and my hair is worth saving the kids," he said. "I've raised $415 of my $1,000 goal; my mother solicited donations from her Facebook friends, and I got some from my former schools, Liberty Middle and Union Mill Elementary."
His neighbor, Holcomb Rogers, a Liberty seventh-grader, is shaving for his second time. He's raised $305 of his $500 goal by asking his teachers and getting his neighbors and relatives to donate. "It was a lot of fun to participate last year, and I like helping people," he said. "My mother died of skin cancer in 2002, so I do this in her honor."
This will be the third time Samantha Lubkin of Sterling is shaving. Her hair's shoulder-length and she hopes to donate it to Locks of Love. In 2004, she raised $1,400 for St. Baldrick's, and in 2008, $6,000; so this year, her goal is $10,000. She's received $2,000 via Facebook, has e-mailed friends and co-workers and passed out flyers at work, her dentist's, chiropractor's and pediatrician's offices and to random people she meets.
Her sister sells Silpada jewelry and will give 100 percent of her online proceeds to Lubkin's efforts if Lubkin is confirmed as the hostess at checkout. See http://mysilpada.com/sites/barbara.terry/barbara.terry/public/content/jewelry/index.jsf.
"My cousin died of colon cancer at age 30, and it's unnatural that a parent should watch their child die," said Lubkin. "And hearing other people's stories, the cancer heartbreak they went through is beyond imagination."
Her son is now 11 months old, and the thought of anything ever happening to him, she said, is "just unbearable," so she does what she can to help others. When she shaved before, said Lubkin, "People would see my bald head and ask about it. Then they'd tell me their cancer stories; it made them feel they could connect to me."
Stone Middle seventh-grader William Dzubak is shaving for his fifth time. "It feels really good to raise money for kids because you know you're helping them out," he said. "My goal is $1,000, and I'm raising it through Facebook, my church and my dad's office."
"Lots of people come to St. Baldrick's Day and it's a fun event," said Dzubak. "Fast Eddie's is a good place to do it because it's a really nice environment and everyone has a good time."
To join a local team for Centreville's event, contact Ratliff at bidandask@verizon.net. To donate to its participants, go to www.stbaldricks.org
.