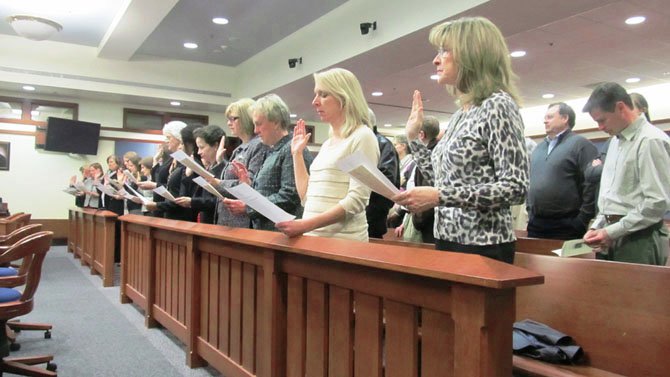 Each child who comes before Judge Thomas Mann's Fairfax courtroom is loveable and vulnerable. There is the precocious 3-year-old whose parents are drug-addicted. A 7-year-old boy whose mentally-ill mother left him home alone to care for his infant sibling. A 12-year-old girl whose stepfather sexually abused her.
Last year in Fairfax County, there were 500 similar stories of abuse and neglect so severe they ended up in court. And while each child's story is different, the one thing they all share is: the adults in their lives broke a sacred promise to take care of them.
"When the Court gets involved when there is abuse, not only have the promises been broken; they've been shattered," said Mann, Chief Judge of Fairfax County's Juvenile and Domestic Relations Court. "Broken promises are like glass, and [these children] are surrounded by it, 360 degrees of broken glass, and their feet are bare."

Mann gave his remarks during the Feb. 21 swearing-in ceremony at the Jennings Judicial Center for a group of 16 newly-trained volunteers he calls the "promise keepers:" Court-Appointed Special Advocates (CASA) volunteers who make recommendations to the court on the best interest of the child. Volunteers submit a fact-based report to the judge based on an objective investigation involving social workers, county attorneys, teachers, etc.


CASA VOLUNTEERS are often the only adults who keep their promises, Mann said, and their objective reports are vital in helping him gain insight into the child's circumstances.
"Imagine going to bed and you wake up on Mars, multiply that times a zillion and add it to infinity, and that's the quantum of despair. CASA's make that Mars landing possible for these children," Mann said.
Lisa Banks, executive director of Fairfax CASA, said volunteers are the constant and focused voice for abused and neglected children in court, and the only adult working exclusively as the child's advocate. She said volunteers work to ensure that each child is safe from further abuse and help obtain a safe and permanent home where that child can thrive.
"Every 38 hours, an abused or neglected child in Fairfax County is placed under court protection," Banks said. "These children need advocates to protect their fundamental rights. We are truly grateful to those who choose to give their time to these children."
Fairfax CASA, which was named "One of the Best" area nonprofits by Catalogue for Philanthropy 2011-2012, has a reputation for being a critical component of Fairfax County's abuse and neglect cases.
"They have well-deserved reputation for being rigorous and objective," said Sen. Dave Marsden (D-37), who served as Superintendent of Fairfax County's Juvenile Detention Center and Chief Deputy of the Virginia Department of Juvenile Justice. "CASAs are technically volunteers, but these are highly-trained, highly-qualified volunteers who are passionate about what they do."
According to Banks, many volunteers are well-educated empty-nesters searching for a way to help children.
Pam Jones, a longtime CASA volunteer from Fairfax, who has recruited others into the program, fits the CASA volunteer profile.
"I was a highly involved elementary school parent, and began looking for alternative volunteer opportunities when my son, an only child, moved to middle school," Jones said.
Jones said while volunteering in her son's school, she was often taken aback by children whose parents showed little support of their children's learning beyond getting them to school.
"Many kids had no one reading to them or making a fuss when they brought home good grades. These things are superficial but I realized that children need champions in all aspects of their lives," Jones said.
Jones said CASA volunteers have to be tenacious, and a thick skin is helpful.
"To be blunt, CASA work brings very little obvious reward. There are many hours spent seeking information from often uncooperative or even hostile people…who don't always appreciate why I'm being so nosy," Jones said.
Jones said her most rewarding case was that of a toddler girl whose parents were very loving but emotionally and developmentally incapable of caring for her.
"Finding an appropriate family member to care for her was a challenge, but she eventually joined the loving home of family members in Pennsylvania; and she gained a big sister in the process," Jones said.
Pat Casciato, who worked as a CASA volunteer in Pittsburgh before moving to Reston, said she had always been interested in social work, but ended up as an executive in the business sector.
She said the most rewarding aspect of being a CASA volunteer is realizing how important the CASA report is to a judge facing competing interests.
"Judges rely on our reports for case detail that helps them make decisions that affect the children's wellbeing…I feel that CASA's involvement in this process is key," Casciato said.
She said all of the cases are challenging, but one case was especially rewarding.
"(It involved) the severe physical abuse of a nine-year-old.


AFTER THREE YEARS, several foster homes, and several social workers, the child was adopted into a loving home. The child became successful in school, even making the honor roll many times," she said.
Susan Chibnall of Fairfax, a clinical psychologist and new Fairfax CASA volunteer, said she thought CASA was a worthwhile way to give back.
"I don't have children of my own, and I have a little time to give. I think this will be a good fit."
Ann Sherwood of Great Falls, who recently retired as a pediatric nurse of 45 years, said she wanted something to do that would allow her to work with children. "I like the fact that I can make a difference, but I know it's going to be difficult working with abused and neglected children. "
"I am so proud of her," said daughter, Kathy Brown of Vienna, who brought her family to the swearing-in ceremony. "I didn't realize the level of commitment it takes to be a volunteer, but my mom has what it takes to help these children."
Mann and Banks both stressed that CASA volunteers become their own family unit.
"I don't want to scare you, but you will change," Mann said to the 16 volunteers at the Feb. 21 ceremony who were about to take an oath pledging their allegiance to the "best interest of the child."
"It's going to be hard for you; be prepared," Mann said. "Your CASA family understands. All of these people are here for you," Mann said. "When the tears really start coming and the pain gets hard, you know this is not just work; it can be life and death."