Burke resident Veronica del Cerro starred in Nilo Cruz's "Anna in the Tropics" as Conchita. The play, performed at the GALA Hispanic Theatre in D.C., depicts a 1920s cigar factory in Florida. A "lector" reads newspapers and literature to the workers as they roll cigars. His reading of Tolstoy's Anna Karenina awakens dormant passions and transforms each character.
Del Cerro describes her role as Conchita, whose name means "little shell" in Spanish. "She's coming out of her shell through the play so her name is a metaphor," she explains. "[Her husband] pushed her dreams aside. This lector comes in and through the poetry revives her passion and she is freed by it."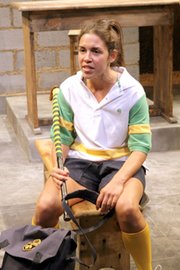 Her career as an actress has its roots in her childhood, when she and her sister collaborated to create dance shows and other performances with neighborhood friends. "We used to play pretend a lot," she recalls. "We called our shop 'Everything' so we could be everything in the world from an astronaut to a substitute teacher."
Del Cerro's parents exposed her to theater and musicals, beginning when she was five, and influenced her through their own talents. Her mother, today a visual artist, had a singing contract with RCA while living in Buenos Aires, Argentina. Her father, since passed away, was an economist with a penchant for writing. Del Cerro says her mother and sister, now a lawyer, continue to support her acting career, attending every one of her performances.


GROWING UP, del Cerro gravitated towards athletic activities, but there was always an element of performance in the sports she chose. She figure skated until she was 10. In synchronized swimming, she choreographed her own solos to songs from shows like Les Miserables and Cabaret. Also an avid reader from a very young age, del Cerro immersed herself in the literary world.
Spending most of her childhood in the Kings Park area, she performed as the Singing Rooster in Robin Hood while at Kings Glen Middle School. But it wasn't until her sophomore year at Lake Braddock High School that she began to seriously consider acting, when a teacher assistant insisted she had talent.
Del Cerro had always wanted to be a psychologist and headed to Virginia Tech to earn her Bachelors of Science in Psychology. As she neared graduation, she spent an intense summer studying theatre so she could participate in the major program during her last year of college. She acted in her first professional show as a senior.
Following graduation, she enrolled in the Studio Theatre Acting Conservatory, after watching its powerful and insightful production of "This is Our Youth."
She plunged into the world of acting, learning about everything from realism to Shakespearean theater to Greek plays. In addition, students of the Conservatory can serve as understudies for the theatre's productions; for example, del Cerro understudied "The Syringa Tree," a 26-character, one-woman show about South Africa.
Del Cerro also spent four years as a behavioral specialist at a psychiatric school in Rockville, working with children with severe emotional disturbances. "I loved being with the kids and trying to get through to them and helping them feel comfortable in their own skin," she recalls.
She used a lot of her training as an actor and as a yoga instructor to work with her students to help them heal. "Art is like nature's Band-Aid," she observes. She found similarities in her work as a behavioral specialist and the summers she taught acting to young students at the Conservatory. "You're using a lot of the same techniques: confidence building, standing on your own two feet, focusing, get rid of modern distractions."


DEL CERRO'S FAVORITE ROLES include Saint Monica in "The Last Days of Judas Iscariot" and Isabel Dyson in "My Children! My Africa!" She researches each role and feels an actor's connection to a character is based on how deeply they become acquainted.
After "Anna in the Tropics" closes, del Cerro will head back west where she spent a year and a half working on a play about immigration issues. "Arizona: No Roosters in the Desert" by Kara Hartzler is based on real interviews of women who crossed the Arizona desert from Mexico. Del Cerro notes that the play deals with an "incredibly complex issue that's so far removed from this area. It kind of feels like a war zone [at the border]."
"It's why you do theater," she continues. "It's a vehicle for true discussion in your community. It's great when that can happen." She believes magic occurs onstage, a very pure sense of life shared between the actors and the audience and among the actors themselves.
Del Cerro hopes to one day perform Shakespeare and Tennessee Williams' plays among others but is grateful for every role she earns.
Del Cerro believes acting has made her a more open-minded person. "[In the play], Conchita says you have to do what the actors do. The actors surrender, they let go of being themselves and they walk into the lives of someone else. That's our job and so because of that, that's one of the best things. You're always forced to see something else's perspective."