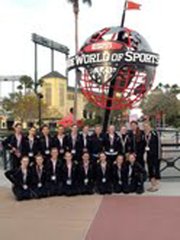 Fans of "So You Think You Can Dance" and "Dance Moms" will be surprised to learn that there's a world class competitive dance company right here in Burke. On Feb. 25, the Senior Dance Company from Buffa's Dance Studio, competed at the Contest of Champions held at the ESPN Wide World of Sports Complex in
Orlando, where they were crowned Grand National Champions.
They competed against teams from New Hampshire, West Virginia, Illinois and Florida and captured first place awards in the Lyrical, Modern, Jazz and Pom categories. The Grand National Champions award included a $3,000 prize and an invitation to perform in the Macy's Thanksgiving Day Parade. Also, Emma Bradley, a junior at West Springfield High School, was awarded first place for
Senior Solo and Emma Presing, an 8th grade student at Alexandria Country Day School, captured first place in the Junior Solo category.
This year, Buffa's Dance Company has also competed at the George Mason Invitational, Hollywood Vibe, NYCDA, East Coast Dance Explosion, West Coast Dance Explosion, and NUVO, where they have won numerous awards and scholarships. They will be competing at Dance Maker's Inc. (DMI) in Tysons Corner on March 23-25, at Showstoppers in Woodbridge on May 18-20 and at The Dance Awards in New York City on July 4-11.
Buffa's Senior Dance Company is coached by Melissa Hargett, Lindsay Snider, Laura Steen and Tom Alexander. Buffa's Dance Studio is located at 9570-H Burke Road in Burke.