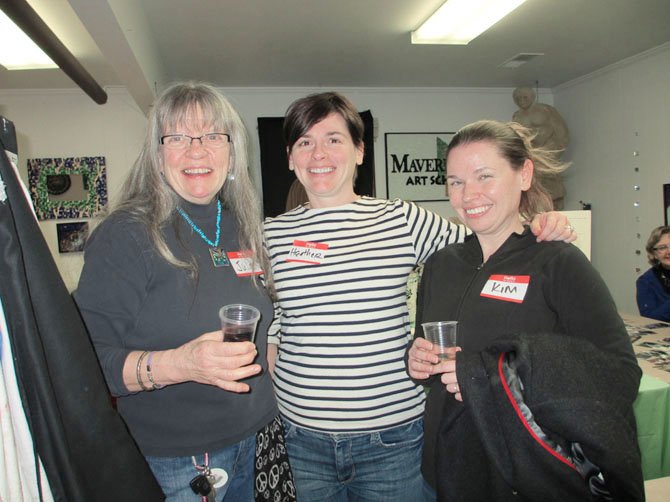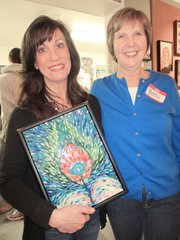 On March 9, Maverick Mosaics hosted a reception to highlight mosaic art pieces composed by students in 2011. The "retrospective," as Maverick Mosaics owner Bonnie Fitzgerald referred to it, included interpretations of wild animals, family pets, flowers and exotic images. Artists ranged from high school students and adults to local professionals looking for a relaxing outlet. The current gallery exhibition runs through April 1.
"I love it. It's therapy," said June Jewell of Vienna, whose intricate peacock feather sparkled in an array of blues and greens with a shock of vivid red. "I think everyone needs some kind of creative expression." As for the skill level requisite to create mosaic designs, Jewell said, "I think people would be surprised by what they can learn to do."
Fitzgerald describes Maverick Mosaics as an educational art school and studio dedicated to nurturing and expanding creative expression through the art and community of mosaic. Maverick Mosaics offers workshops and learning opportunities for all ages and skill levels. The studio hosts visiting artists from around the world. Fitzgerald has operated a Maverick Mosaics' summer art camp for children for more than 12 years.
Mosaic art is learned, said Fitzgerald. "It's a great way to ignite your creative engine," said Fitzgerald. "You don't need experience. You just begin and you learn and develop, as with any art form."
Throughout the retrospective, animal portraits were as common as flowers. Kyra Bell, the studio's intern and a student at Madison High School, created "Garden Gate" and another mosaic, that of her dog, completed during a recent Pet Portrait workshop. Maverick Mosaics' next Pet Portrait workshop will be the weekend of March 30.
Dr. Julie Smith, Medical Director at AnimalScan in Vienna, was looking for an "artistic outlet" when she began taking classes about a year ago. Hanging at the reception was Smith's portrait of a grey and white horse, which she created with guidance from Fitzgerald. The mosaic glass pendant she wore to the reception took very little time, Smith said. The staff is helpful, suggesting things like color and placement. "One of the nicest things about taking classes here is all the materials are here for you to use."
One of the attributes of Maverick Mosaics' programs that draws participants from throughout the metro area is the intensive workshops, usually conducted by prominent instructors in mosaic art. Over the weekend of March 10, flower mosaic master artisan Yulia Hanansen led an intensive workshop in flower mosaics. Pegeen Eggleston, a student from Fredericksburg, said she would go anywhere to follow the master.
During 2011, Maverick Mosaics instructed more than 700 people, 150 of them student campers. Students have the option of taking classes or engaging in open studio or doing both.
"It's a really nice community here," said Jewell.
Maverick Mosaics is located at 145 Church St. NW, Vienna, at the corner of Lawyers Road and Church Street.
For more information on workshops and kids' summer art camp, go to www.maverickmosaics.com or call Maverick Mosaics at 703-938-1755.