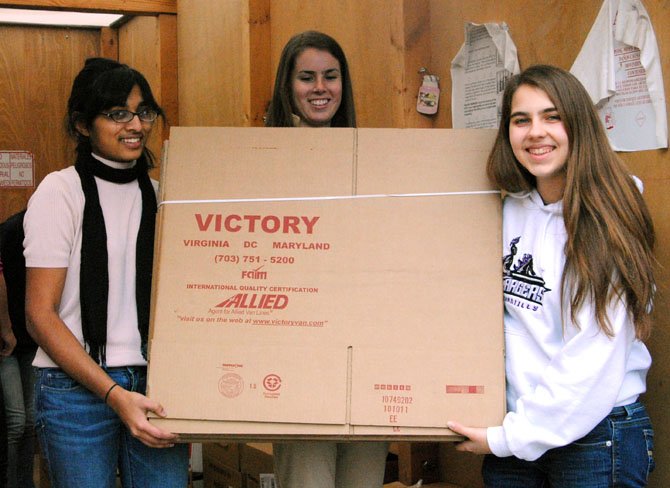 Life lessons don't always come from books. National Honor Society (NHS) students at Chantilly High are learning that firsthand, showing care and compassion by collecting items to send to U.S. soldiers overseas. Students at other Chantilly Pyramid schools are collecting, too, as part of the America's Adopt-A-Soldier program.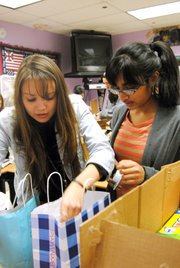 They'll pack it all up, along with thank-you notes, Saturday, March 24, from 10 a.m.-3 p.m., in the school cafeteria. Volunteers will assemble boxes, sort and pack donated items, write thank-you notes to the soldiers for their service and fill out customs forms and address labels.
Donations will be accepted until Thursday, March 22, and many more items are needed, so it's hoped that local residents who haven't yet contributed will do so, and will also help with the March 24 packing. They just have to show up.
"We've collected a lot of donations, but we're far from the number we need to reach our goal of sending care packages to hundreds of soldiers overseas," said NHS co-sponsor Nancy Holincheck. Items may be dropped off at the Chantilly High office, weekdays, from 8 a.m.-3 p.m. For more information, contact NHS co-sponsor Charles Demek at ctdemek@fcps.edu.
Needed are international calling cards, plastic Ziplock bags (sandwich, quart or gallon size); bottled water (donations of cases of water are greatly appreciated); baby wipes (travel pack); sunscreen or bug repellant (no aerosols); individual instant-drink packets (i.e., instant coffee or tea, sports drinks or Crystal Light packets); non-chocolate, individually wrapped snacks that travel well, such as mini bags of pretzels, Pringles, crackers or cookies. (Items must be store-bought and packed individually; homemade items can't be used.).
Also needed are batteries, playing cards, toiletries, paper and pens, socks, chewing gum, laundry detergent, dental floss, Q-tips, disposable cameras, individually wrapped hard candies, hand lotion, bar soap, body-wash gel, hand sanitizer, shaving gel, shampoo and conditioner, toothpaste and toothbrushes, Chap Stick or Blistex, and travel-size tissues.
"Our students have been working hard on the donation drive and in planning for the care-packing event," said Holincheck. "These kids have a commitment to service that is impressive, and they understand the sacrifice made by our troops overseas and at home. Every fall, the Chantilly NHS sponsors a Veteran's Day dinner for military veterans, and we envision our current service project as another way to show our appreciation to the men and women who serve our country."
Retired Army officer Mary Keeser founded the nonprofit America's Adopt-A-Soldier in 2009 and has helped Chantilly students coordinate their efforts. For more information about this program, see www.americasadoptasoldier.org.

Holincheck, an AP physics teacher, heard about it when Lake Braddock Secondary School did it. She helped out and then told Demek and another Chantilly NHS co-sponsor, Melissa Guerro, about it. Then they shared the idea with the NHS officers.
"They liked it but, instead of just doing it here at Chantilly, we expanded it to our feeder middle and elementary schools," said Demek. Then he and NHS President Ariana Mollers and Vice-President Angela Virostek obtained PTSA support to help spread the word.
In addition, said Holincheck, "Our principal, Teresa Johnson, has supported this service project from the beginning. She's done a lot to help us by getting the other schools involved in our donation drive."
"We briefed her in January and she brought it up to the other principals at a Pyramid meeting," said Demek. "We then took about 1,000 fliers to each of those schools, dividing up the lists of items needed among them."
"I love the idea and I'm excited for the NHS kids," said Johnson. "All the Pyramid principals were excited about it, too. I think anything involving the entire community is terrific. Our kids made arrangements to pick up donated items from the middle and elementary schools, and the Chantilly SGA also supported and helped advertise the project. I'm really proud of our kids and proud of the community response, too — it's been just amazing."
The collection drive began Jan. 23. At Chantilly, students at each grade level were asked to bring in different items. Freshmen and sophomores asked people in their P.E. classes for donations, and juniors and seniors worked through their English classes. Eventually, one class in each grade level that gets 100-percent participation will be rewarded with a pizza party.
The NHS officers and students have done much of the project's planning and coordinating. However, stressed Demek, "This is truly a community effort. All students are invited to participate, as well as staff at the schools and members of the community."
Holincheck said they've also been "inspired" by feedback from students at other local schools. Joshua Williams and James Ventrelli, students at Franklin Middle School, both recently celebrated their 13th birthdays. But instead of requesting gifts for themselves, they asked their families and friends to contribute money for donations to the care packages. They received $550 and used it to purchase items for the Adopt-A-Soldier drive.
At Rocky Run Middle School, civics classes and members of the National Junior Honor Society are collecting donations and holding a letter-writing event to contribute to the cards and letters that will be included in the care packages. And younger children have contributed drawings for the soldiers.
"We got a load of material two weeks ago from Oak Hill Elementary," said Demek. "Parent Amy Smith worked with Franklin and Oak Hill to coordinate it. We picked up donations Monday from Greenbriar East Elementary and will pick up Greenbriar West's next week."
Proud, as well, of his NHS students, Demek said, "This is a tremendous effort on their part. These kids have busy lives, and to reach out to the Armed Forces shows their character. The students really get a lot out of it; it's a good experience in their lives. This also shows the type of community we're living in — devoted to our soldiers and our country."
Senior Ariana Mollers said they've been pleasantly surprised by how much the elementary students have donated. Toughest, she said, is "keeping track of everything and keeping it all organized, from taking names of people who've donated to listing names of volunteers.
The best part, she said, is "being able to give my community a chance to give back. Seeing my peers go out and buy something for a soldier really touches me, and the NHS is glad to give them this opportunity."
Classmate Angela Virostek is "ecstatic — it's been a great, unifying experience for the school. I read the letters written to the soldiers while sorting them for packing, and the students' sentiments show that it's not just about getting service hours for this project. They actually care about the soldiers on active duty."
"We hope more people will donate if they can," she continued. "It's a great cause and a great feeling of accomplishment that you've actually made a difference in someone's life."
NHS publicity officer Carrie Ceh is thrilled that "soldiers overseas will get packages of awesome things, like conditioner and shampoo, that we take for granted, but they'll be excited to open. My dad's worked for Marriott for over 25 years, and he brought home a bunch of toiletries to donate. His hotel was going to throw them out because it was changing products. I also wrote a letter to other hotels for donations and a couple came through."
NHS historian Hattie Clougherty said one of the nicest things about this project is bringing the whole community together. "A group of Girl Scouts donated eight boxes of Girl Scout cookies," she said. "At Lees Corner Elementary, I filled my car trunk with Ziplock bags and other items, and at Rocky Run, Angela filled her SUV with donations."
"It's great to see so many people rising to the occasion to support our troops," continued Clougherty. "They want to be part of something that's so much bigger than them."