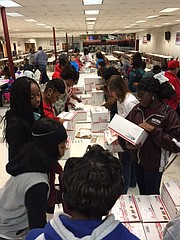 There are all kinds of flash mobs. Instead of a marriage proposal or elaborate dance routine, more than 200 Mount Vernon High School students and members of the community descended on the school's cafeteria on Martin Luther King, Jr. Day to assemble care packages for deployed soldiers.
"We decided we wanted to do something on the national day of service," said Mount Vernon High School principal Nardos King," so we emailed our community, sent out tweets and used our Facebook page."
The community responded by showing up with enough toiletries, snacks, socks and other comforts of home to fill about 200 boxes.
"People think the military has this supply line, a Post Exchange everywhere, but they don't," said Mary Keeser, founder of America's Adopt A Soldier, who helped organize the event.
King and Keeser both said the most valuable items in the packages are hand-written notes from the volunteers. "It adds a special touch from the community," said Keeser.
With postage paid for by donations to America's Adopt A Soldier, these boxes will go to soldiers who signed up at the group's website, located in Liberia, Kuwait, Afghanistan and Turkey.
For more information on getting involved with a care packing, visit www.americasadoptasoldier.org.