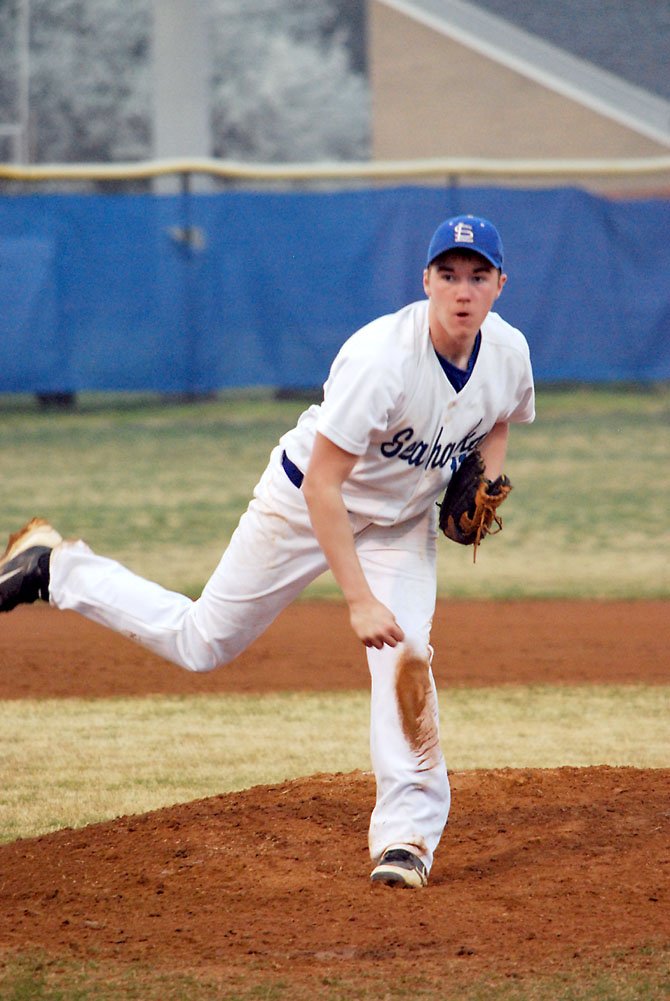 The South Lakes Seahawks varsity baseball team kicked off their 2012 high school season Friday night, March 16 against rival Herndon High. The rain cleared and the stands at South Lakes were packed with a large contingent of fans, including students and little leaguers. Reston Little League was well represented on both teams with 18 alumni participating.
Herndon, which won the cross-town, non-district game 13-3, jumped out on top in the second inning after a three-run homer by Austin Schnarrs. After Herndon tacked on another run in the third, South Lakes battled back against Herndon senior starting pitcher Addison Wright with three runs, all coming with two outs, in the bottom of the fifth inning.
Junior Hayden Hall started the rally with a double and senior Ryan Forrest added a key RBI single.
South Lakes senior Billy McLaughlin pitched a solid game, going six strong innings. Unfortunately for South Lakes, the wheels came off in the seventh inning and the barn-burner turned into a decisive win for Herndon.
South Lakes, in the Friday game, hosted the first of its four `4 Free Admission Fridays,' where youngsters are allowed in free of cost as long as they are accompanied by a paying adult. All youth ball players, on these special nights, are encouraged to wear their team baseball jerseys (Little League, Cal Ripken) or the Kelly green and royal blue attire of the Seahawk team colors.
The next South Lakes Free Admission Friday is this upcoming Friday night, March 23 when the Seahawks face Liberty District opponent Jefferson at 6:30.
Another big night for South Lakes baseball is scheduled for Friday, April 13, which will be `Youth Baseball Night,' where players not only get into the game for free, but will enjoy special activities and gifts. The opponent that evening will be district rival Fairfax High.
The Seahawks will be migrating south this spring break to participate in the BATRUP tournament near Hilton Head, S.C. , against teams. The Seahawks, on the trip scheduled for April 1-5, will be playing there spring break games at Bluffton High School. Check out the schedule at www.southlakesathletics.org.
Contributed by Matt Albelson
Oakton Baseball Wins First ThreeThe Oakton High baseball team (3-0) opened their new season last week with wins over Yorktown, 8-3, McLean, 8-7, and West Potomac, 15-4.
"We are very solid throughout our roster this year," said Oakton head coach Justin Janis. "I've been very pleased with how our players are preparing. If we throw strikes and play good defense, I think we have a chance to be successful this year."
Key members on the Oakton roster include senior Tyler Carroll, who is set to play collegiately at James Madison University next school year; senior outfielder Mason Hauser; and senior catcher Austin Lamon.
Oakton is coming off a successful 2011 season in which the Cougars went 18-6 overall and captured the Concorde District title. They advanced to the Northern Region tournament quarterfinals before losing to Lake Braddock.