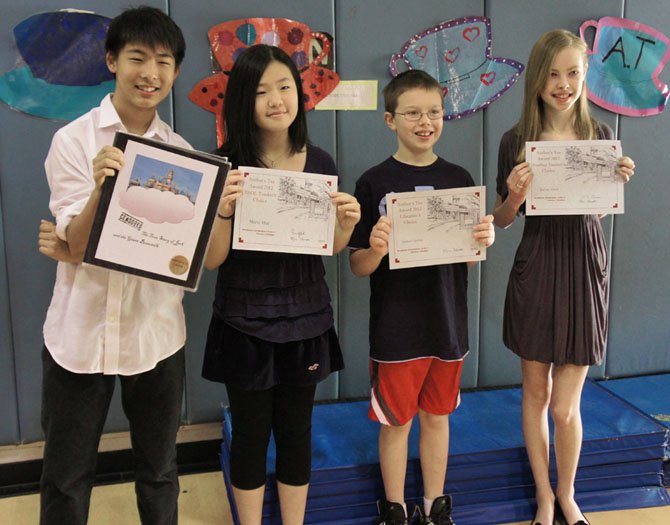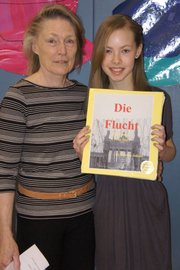 Wondering where our future NYT Bestseller List authors will come from and what they are writing about today before literary fame finds them? You may have to look no further than Westbriar Elementary School in Vienna. Led by teacher Deborah Alsado, who first coordinated an Author's Tea project during her teaching assignments in Riyadh, Saudi Arabia. Westbriar's 6th graders embarked on a journey of self-discovery, learning, and creative expression that culminated in the Author's Tea and Award Ceremony catered by Cenan's Bakery. Student-authors, school staff, relatives, and numerous guests made up the more than 150 people gathered in the school's thematically decorated gym on March 15.
The project began in January, with students choosing topics, then gathering frequently to share ideas and brainstorm how best to communicate their works, including the creation of an author's profile, dustcover art, and even their book's back cover "teaser" which each student read aloud in a student-created video that was played during the Tea.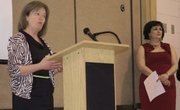 There were certainly some light-hearted adventure and mystery stories produced, but among the 65 entries were tales of heroism, well-researched stories about historical figures and events, cookbooks enlivened with glimpses into the families they came from, personal narratives dealing with bullying, the loss of loved ones, phobias, and current events such as the recent revolution in Egypt. Insights into other countries and cultures were found in the works of some of the school's foreign-born students.
The awards committee read every book. "It took awhile, but they were all so wonderful that it was a pleasure, and very hard to choose just a handful to single out," admitted school principal Joanne Goodwin. The Principal's Choice award went to Brian La for "The True Story of Jack and the Giant Beanstalk," his innovative twist on a well-known fairy tale. Brian's grandfather is a novelist and his father a diplomat with the Korean Embassy, so it would seem that the communication gene is a family affair for this winner.
Karina Atkins received the Reading Teacher's award for "Die Flucht, The Escape a True Story," describing her grandmother's early life and escape from East Germany. The heroine of her story was present at the ceremony. Samuel Ganten's book, "Adrian's Chronicles Book One" took the Librarian's Choice Award. Sam has written a previous book about his thoughts on solving America's social ills, but in his words, "this book was better, and combined my political views with a good adventure story." "Korea to America," written by ESOL student Marie Hur, received the ESOL Teacher's Choice Award.
Additional honors were presented for Teachers' Award categories and Student Choice Awards.