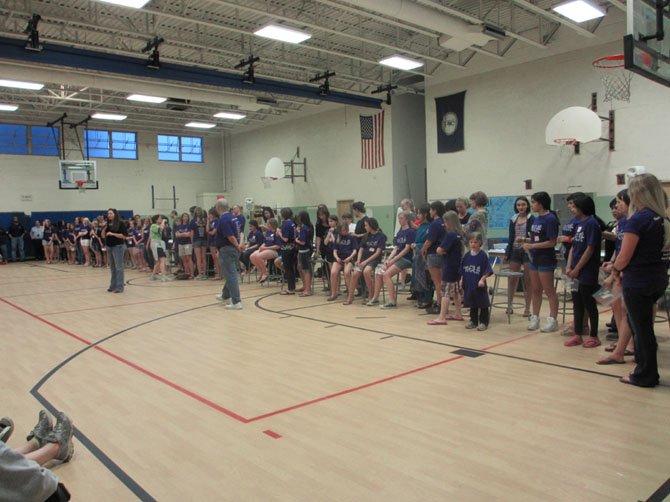 Thoreau Middle School students came together in a school-wide benefit on Friday night, girls with long hair having their crowns of glory snipped and donated to be used as wigs for girls undergoing chemotherapy. The event, which featured between 40 and 50 Thoreau girls and a contingent of volunteer hair stylists, honored Thoreau eighth-grader Lija Lusis, who battled Hodgkins lymphoma during the winter months. Lija is in remission now.
"I was scared at first," said Lija, who had a role in Thoreau's spring production of "Thoroughly Modern Millie," a period piece set in the 1920s in which the young women got their hair bobbed.
"I was told I had a mass behind my heart. I thought, 'this can't be happening to me. I'm a normal girl, healthy.'"
"Thoroughly Modern Millie" played a role in the benefit that partnered with the American Cancer Society and Pantene Beautiful Lengths. Drama teacher and play director Bernie DeLeo was inspired by the spirit of one of the actors who had participated in Locks for Love and by the spirit of the play.
"I got the idea from one of the girls in the play who had cut her hair for something like this before, and, I just took the idea and ran with it," said DeLeo. The drama department partnered with the student-run SCA, and PTA. The effort recruited as many volunteer hair stylists as girls. Armed with scissors and blow dryers, the volunteers prettied-up the remaining chopped hair on the girls' heads. Many of the moms were delighted with their daughters' new hair styles.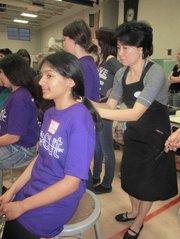 PARENTS AND OTHER STUDENTS lent their support.
DeLeo counted down to the initial in-unison snip. The audience cheered.
Megha Karthikeyan had eight inches of her thick black 16-inch-length hair cut by her mother. She did it to support her friend. "I know my hair means a lot to me," said Megha, 8th grade. "Other girls who lose their hair will appreciate it."
Lija herself lopped off the hair of good friend Pearl Wilcock, who, just last June, had her hair cut on behalf of another good friend who had gotten sick. Pearl's hair was donated to Locks of Love.
Lija noticed swollen lymph nodes in December. Within a couple of days, Dec. 16, the Thoreau thespian was diagnosed with Stage 2A Hodgkins lymphoma. She had a sonogram and a chest X-ray where radiologists discovered a mass behind her heart.
"I went into denial," said Lija's mother, Ingrid. "Each round of chemo got her really sick." Lusis, too, had her hair cut when her daughter was undergoing chemo.
"This is such a fabulous community event. We're all so touched by this."
Lija dropped out of the spring play but still managed to get "A's," in schoolwork while undergoing treatment, her mother said.


AS SOON AS the chemotherapy treatments ended, Lija returned to school. "Thoreau has been fabulous working with Lija," said Ingrid Lusis. "The doctors wanted her to lead a normal life."
So, Lija continued to lead a "normal" life when "normal" includes a body port and hospital visits. The youngster underwent four cycles of chemotherapy, each consisting of three consecutive days, eight days apart. She's perky and pretty and exudes self-confidence when speaking.
"I was in the hospital and I said, 'I'm not going to let this bother me. I'm going to be as normal as a kid with cancer can be,'" said Lija. "I just wanted the chemo to end. And I thought, 'it will end one day.'"
And, it did.