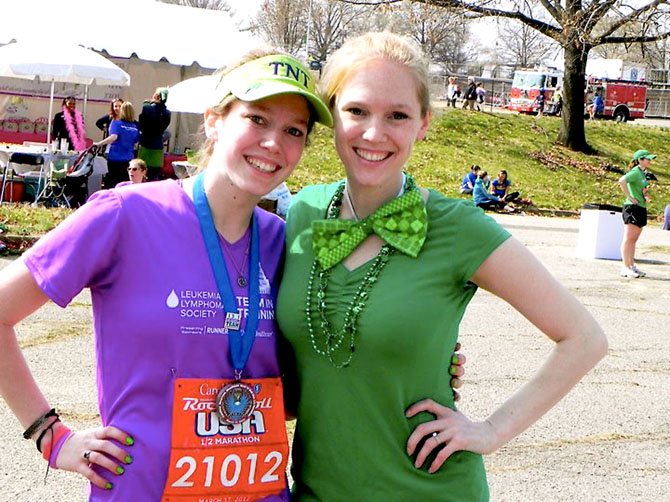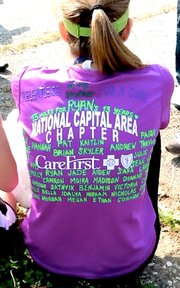 Fairfax resident Mary McLaughlin ran the Rock'n'Roll USA Half Marathon with two goals in mind – to raise as much money as she could for The Leukemia & Lymphoma Society (LLS) and to honor her brother's memory. And on March 17 in Washington, D.C., she did both.
A student at Frost Middle School, Ryan McLaughlin was just 13 when he died of leukemia in 1999. His family became involved with LLS three months earlier, when he walked with them in a fund-raising Light the Night Walk.
Later, Mary's older sister Sarah, then a Woodson High student, began the nonprofit Young Hearts Foundation in their brother's memory to raise money for LLS and improve the lives of young people affected by long-term illness.
The sisters recruited students from Woodson High and Frost Middle schools to help and, between their fund-raising for the Walk and the inaugural Ryan McLaughlin Memorial Golf Tournament, that year they raised more than $10,000 for LLS.
Eventually, Sarah turned over the Young Hearts reins to Mary and yet another sister, Regan. While attending Woodson, Mary helped lead it from 2003-2007 before leaving for college at Christopher Newport University.
She also continued her involvement with LLS by raising funds for medical research, providing support for affected families and raising awareness. During Mary's junior year of college in 2010, she was first runner up for LLS's Woman of the Year campaign, raising $79,000 for the organization in just 10 weeks.


MARY GRADUATED in May 2011 and now lives in Fairfax's Mantua community. She works for a large, private foundation and makes grants and advocates for education policy. She also continued helping LLS and, in the March 17 half marathon, she ran 13.1 miles to celebrate the 13 years Ryan lived before succumbing to leukemia.
"A few months ago, I asked some friends if they would be up for running a half or full marathon with me to raise money for The Leukemia & Lymphoma Society," said Mary. By asking each of her friends to donate $13, she initially hoped to raise $1,300. She reached that goal exactly 13 days before the race and ended up personally raising more than $1,500. Delighted, she said, "I can't thank my friends and family enough for all of their continued support and encouragement."
But that's not all. Sporting the name, Team Piggy Bank, Mary and her half-marathon teammates actually raised way more. "Not only did they agree to run a collective 91.7 miles at the Rock N Roll USA Marathon and Half Marathon, but the six of us raised $8,500 in the search for a cure," said Mary. "Needless to say, I have really great friends."
But first came lots of hard work. Around the same time she asked these friends if they'd run with her, Mary began her personal training for the event. After running 1.5 miles on a cold, December afternoon, she had to walk back to her house because her body wasn't prepared for even that small distance. So she turned to the LLS' Team in Training program for help.


AFTER THREE MONTHS' COACHING, she was able to run the half marathon on St. Patrick's Day in 2:31:11. "My friends and I now consider six miles an 'easy' run," she said. "I've certainly come a long way, and I couldn't have done it without the incredible coaches and support of Team In Training."
But most of all, Mary said, "I honestly credit Ryan with everything I've had the chance to do. He continues to be my driving force every day."