Mount Vernon — Families from the Stratford Landing Elementary community enjoyed an evening of fun while raising more than $24,000 at the school's annual Spring Fling/Silent Auction and Ice Cream Social Friday night, March 23.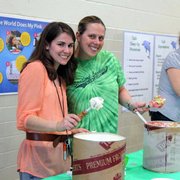 "The Spring Fling/Silent Auction is a highly anticipated and well attended event each year at Stratford Landing. There is always excitement in the air during the school day, especially as every student has a chance to win a raffle basket," said Maura Caulfield, principal at the school.
"As every child makes their raffle basket selection, I see eyes filled with hope that their special ticket will make a dream become a reality. They know that all it takes is one ticket to be a winner. This excitement builds to the raffle basket drawing which culminates the evening events," she added.
Friends and neighbors socialized and ate ice cream served up by Stratford Landing teachers and staff. Parents were able to browse and bid on the many auction items donated by local families and businesses, while the children danced to the tunes of DJ Jules Julio in the school's gym. Some of the most popular auction items were Principal for a Day at $310, Nationals Club Level tickets at $285, landscaping services at $450, Disney Park Hopper tickets at $390, and an original piece of art by a local artist at $170. Other favorites included the special treats packages offered by teachers and staff at the school.
As the auction bidding came to a close, the drawing began for the raffle baskets donated by Stratford families and assembled by the teachers and students. Themes for this year's raffle baskets included everything from American Girl and I Pad Mania to Legos, Books, and Game Night. There were squeals of excitement as names were called and the winners collected their prizes. Every Stratford Landing student received a free raffle ticket in order to participate in this much anticipated part of the evening.
"As usual, the Stratford Landing community came out in full force to support our Spring Fling and silent auction this year, and I want to personally thank each and every parent, teacher, and student who volunteered to make the event a huge success," said Frances Sankey, this year's Spring Fling chairperson.
Sankey also offered special thanks and appreciation to all the local businesses, families, and Stratford Landing teachers and staff who generously donated the items available for auction.
For 10 plus years, the Silent Auction has raised thousands of dollars for programs benefiting students, teachers and families at the school and throughout the community, including funding for field trips and performing arts programs, updated technology, new library books, and establishment of a Discovery Garden used by students and teachers.
In addition, Stratford Landing's PTA has also provided fundraising profits this year to further staff development and to help all teachers offset expenses they privately incur to set up their classrooms for a new school year. The PTA has also sponsored community outreach programs, including literacy nights held in the Gum Springs Community center to help students and families focus on reading strategies.