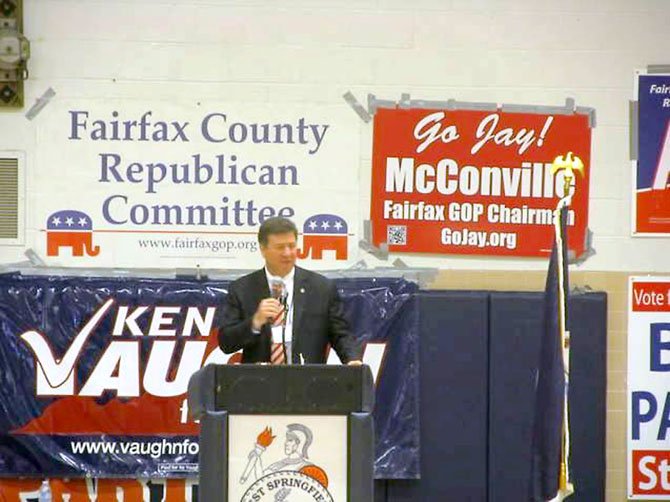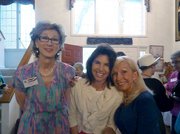 More than 1,000 Republican delegates participated in the 2012 Fairfax County Republican Committee (FCRC) convention, held at West Springfield High School on Saturday, March 24.
A full slate of prominent speakers was featured, including former Virginia Governor George Allen, who returned to his home base in Northern Virginia as part of his campaign to recapture the Senate seat he lost in 2006 to Jim Webb.
U.S. Rep. Frank Wolf (VA-10), Virginia Attorney General Ken Cuccinelli; and Pete Synder, Chairman of the Virginia Victory Program, were also speakers at the event.
"Virginians have always enjoyed making history and this year's election could decide control of the U.S. Senate," Allen said. "I believe we have the opportunity today to positively change the trajectory of our nation and make America competitive again. It was great to see the energy and excitement of everyone in Fairfax County and all the friendly and familiar faces at this morning's convention."
"It was invigorating to start the day with so many friends and neighbors at the Fairfax County GOP Convention. The Fairfax County Republicans are fired up and ready to win," Allen told the crowd.
During the convention, the FCRC elected Jay McConville as its new chairman during its biennial convention. Upon his election by acclamation, McConville immediately nominated his rival for the chairmanship, Matt Ames, to stand as 1st Vice Chairman of the Fairfax GOP. Both will serve two-year terms. McConville succeeds Anthony Bedell, who retired as chairman after serving for two terms.
"This year is critical for our nation," said McConville. "Our party must put forth its best effort to ensure that Fairfax County supports the Republican candidates who will help reverse the disastrous policies of the Obama Administration and usher in a new period of fiscally responsible governance and respect for the Constitution. Our liberty depends on it."
McConville is a business executive, community leader, and former candidate for the Virginia House of Delegates. He has served for the last two years as the FCRC's Vice Chairman for Budget and Finance. He is an Army Veteran and graduate of George Mason University. He and his wife Sue have three children.