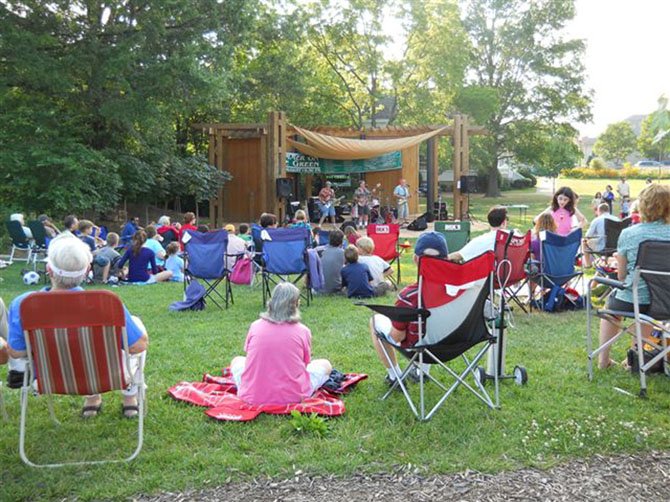 As "they" say, "spring has sprung." With spring comes mild temperatures, farmers' rain to nurture the flowers, and the launch of seasonal activities, from egg hunts to the Windover Walk on the Hill. The U.S. Navy's own "Sea Chanters" kick off the Town Green concert series on May 11. The community's largest and most festive extravaganza, ViVa! Vienna! takes place over the three-day Memorial Day weekend.
Family Flashlight Egg Hunt
Friday, March 30; 7 p.m., at Glyndon Park. Egg hunt will be held rain or shine, although it's unlikely the sun would be shining at 7 p.m., anyway.
Tickets were sold March 10 and March 12, so call the Department of Parks and Recreation at 703-255-6360 for availability of unsold tickets. $3 per family member (under 12 months free) with a maximum of six tickets per family.
Easter Egg Hunt at Freeman House
Saturday, March 31; 10:30-11:30 a.m., on the grounds of historic Freeman House, 131 Church Street, NE.
There is no rain date. Sponsored by Historic Vienna, Inc. and the Town of Vienna.
Participation and activities free of charge but bring your own basket for egg collection.
Designed for children 12 and under, the egg hunt, mostly, draws preschoolers and primary-graders. The kids are invited to decorate hard-cooked eggs, too. Your child shaking hands with the Easter Bunny makes a fun photo memory. There's a storyteller if you can get the kids to calm down.
For more information, call Historic Vienna, Inc. at 703-938-5187 or visit www.historicviennainc.org.
Patrick Henry Library Mega Book Sale
Saturday, March 31, 10 a.m. to 4 p.m., and Sunday, April 1, 11a.m. to 2 p.m.; Patrick Henry Library, 101 Maple Ave., E. Book sale is sponsored and supported by the volunteers of the Friends of the Patrick Henry Library. All proceeds benefit Patrick Henry.
Get there early on Saturday before the crowds attack. The volunteers are helpful, the variety vast, and the cause is one that benefits all who use Patrick Henry Library. Hardback books sell for $2, trade paperbacks for $1, and pocket paperbacks for 50 cents. Cash only; no credit cards or checks.
You've got to return on Sunday even if you thought you filled up on Saturday. Sunday is fill-a-bag with books for a flat charge of $5. For more information, e-mail email FPHL101@gmail. Free parking and admission.
Freeman Store and Museum's Landmarks Dedication
In fall of 2011, the Commonwealth of Virginia added Freeman Store and Museum to its historic registry.
On April 21, at 2 p.m., the Town of Vienna and Historic Vienna, Inc. is dedicating the Freeman Store and Museum's Virginia Landmarks Register plaque at 131 Church Street, NE. The event will feature keynote speakers Mayor M. Jane Seeman, Del. Mark Keam, and state Sen. Chap Peterson. U.S. Representative Gerry Connolly is a special guest, and the Reverend Doctor Kenny Smith will provide the Invocation. The American Legion Color Guard opens the ceremony, and the 17th Virginia Infantry Regiment, Co. D, "Fairfax Rifles" Living History Society Color Guard will provide a closing volley. Musical accompaniment provided by the Vienna Community Band. A celebration follows the ceremony. The Freeman Store, along with the Civil War museum exhibit "Vienna Awakens to War" will be open before and after the ceremony. This event is a Virginia Civil War Sesquicentennial-sponsored event. For more details, e-mail 1SJBrady@gmail.com or call 703-200-7806.
Taste of the Town
Saturday, April 28, 11 a.m. to 8 p.m.; 400 Center St, S., on the grounds of the Vienna Volunteer Fire Department. Event runs in good weather and rainy weather because this inaugural food and beverage festival is a "GO."
Nearly 30 of the community's most popular and loved restaurants are participating in VVFD Auxiliary's fundraiser. Proceeds benefit the Vienna Volunteer Fire Department.
Admission is free but "tastes" require tickets that are sold for $1 each. For more information, including restaurant updates, see www.tasteofvienna.org or www.facebook.com/#!/tasteofvienna .
Participating restaurants, to date, include Aditi, Alegria, Bazin's on Church, Brio Tuscan Grille, Caffe Amouri,California Tortilla, Chef Geoff 's Tysons Corner, Church Street Pizza, Crepe Amour, Culinaria Cooking School, Famous Dave's BBQ, Kabob Tavern, La Sandia, Maple Ave Restaurant, Maplewood Grill, Noodles and Company, Outback Steakhouse, Panache Tysons, Peking Express of Vienna, Pure Pasty Co., Purple Onion Catering Co., Silva's Patisserie, Sweet City Desserts, Sweetleaf,Tara Thai,Tequila Grande Mexican Café, Vienna Inn, Whole Foods Market, and Yirasai Sushi & Grill.
Windover Walk on the Hill
Sunday, April 29, Details to be announced by Historic Vienna, Inc. and the Town of Vienna.
The azaleas typically bloom on cue for this annual springtime stroll along Windover Avenue. Following 2012's mild winter and warm March, it's possible the flowers will bloom before April 29. No matter, though, because there will be other flowering plants and the Vienna Community Band keeps strollers and listeners entertained. Along the route, volunteers lay out lemonade and cookies. All together, it's a relaxing way to meet up with neighbors you haven't seen since the previous year's Walk on the Hill. Visit www.historicviennainc.org in early April for more details, including time.
Town Green Concerts
They are free, family-friendly and fun. "They" are the Town Green concert series, with twice-weekly concerts appealing primarily to adults, weekly Wednesday concerts for kids, and occasional Saturday open mic nights. Concerts usually begin at 6:30 p.m. unless noted otherwise. The U.S. Navy Sea Chanters kick off the Town Green concert season. Bring a blanket, bring a picnic, and bring the kids. Regardless of the genre, the youngsters love to dance across the expansive green lawn.
Performances are free to the public; sponsored by local businesses to benefit the community.
May 11 – Sea Chanters; May 12 – Open Mic Night; May 13 - SoHo Down, Country; May 18 – U.S. Navy Commodores; May 20 - Billy Emerson, Bluegrass; June 1 -Four Star Combo, Rockabilly; June 3 - Tommy Lepson Band, Blues; June 8 – To Be Announced; June 10 – The Tonics, Blues/Rock; June 15 – Annapolis, Bluegrass; June 17 - Fat Chance; June 20, the season's first kiddie concert, Rocknoceros.
For final draft of the concert schedule and information, visit www.viennava.gov/index.aspx?nid=81.
Vienna Choral Society spring concert
A Live Music Sampler – Concert for a Cause; Saturday, May 19, 7:30 p.m. See http://viennachoralsociety.org/events/ for performance location and ticketing.
ViVa! Vienna!
Vienna's biggest, most festive annual event returns for three days starting on May 26. It's ViVa! Vienna! anchoring the community's Memorial Day weekend events, sponsored by the Rotary Club of Vienna and the Town of Vienna. The footprint seems to grow every year. ViVa! Vienna! takes over historic Church Street from Mill Street to Lawyers' Road, and Mill and Dominion streets. With approximately 300 vendors, selling everything from food to gifts to services, nonstop entertainment on a main stage and a children's stage, and more than 25 amusement rides, the Memorial Day weekend festival pulls in 50,000 people.
Kids' favorite performers include Rocknoceros, Banjo Man, Knick Knack, Noland the Magician and Mr. Dave, among a slew of others.
All net proceeds go to charity and nonprofit services, mostly in the Vienna-Oakton area.
Parking is free at James Madison High School and the Vienna Metro Station and shuttles move guests from those parking lots to the festival. A hint, though. It's usually not hard finding parking near the festival if you don't mind walking a block or two. ViVa! Vienna! is one of Vienna's most anticipated yearly events. For more exhaustive details and the entertainment schedule, go to http://vivavienna.org/.
Historic Vienna, Inc. Used Book Sale
Saturday, June 9 and Sunday, June 10; opens Saturday at 9 a.m.
This mega book sale is so big, so good, that dealers come from throughout the metro area for great values and one-of-a-kind books. It's Historic Vienna's primary fundraiser. The book bins are under tents so the event runs in any kind of weather. Behind Freeman House is the children's patio where kids and parents can browse and read together. Sunday is fill-a-bag-for-$5 day. Go to www.historicviennainc.org for time and details.