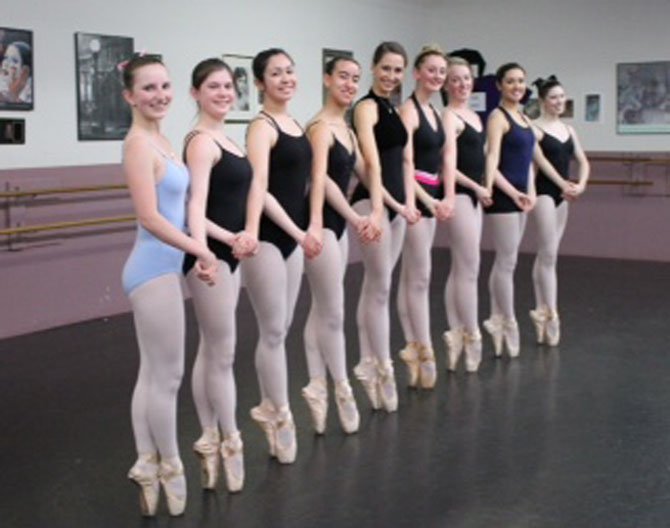 In celebration of Founder Alzine Cuppett's 50th Anniversary in business, ballet students from the Cuppett Performing Arts Center will perform a very special full-length ballet, "Golden Gala", on Saturday, May 5, at the beautiful Kenmore Middle School Theater on Carlin Springs Rd. in Arlington. Two performances will be held at 1 p.m. and 7 p.m. The program features professional Ballet Master Brian Walker and professional alumnus Ballerina, Kathryn Carlson, and will have excerpts from "The Nutcracker," "Cinderella," "Gaité Parisienne," "Coppelia" and "The Sleeping Beauty."
The dance school was started in Cuppett's Vienna home in 1962, and has expanded over the decades to a center where over 700 students study dance each year. Cuppett, a former Rockette and Broadway dancer, was trained by Gene Kelly. She is still an active presence at the Center, while her daughters and other members of her family have made it a true family business.
"I am extremely proud to carry on my mother's legacy, and am continually inspired by our amazing faculty, parents, students," said Amy Cuppett Stiverson, Artistic Director. "Parents have described Cuppetts as a 'home away from home' for their children – my mother has been an inspiration to thousands."
Since 1980, Cuppett Performing Arts Center has been at 135 Park Street, in a studio that grew to 6,500 s.f. The school offers beginning through professional classes in the Italian (Cecchetti) and Russian methods of Ballet, as well as Tap, Jazz, Modern, Character, Pointe, Lyrical, Hip-Hop, Acro-Dance, and Musical Theater. Thousands of men and women are alumni, and many have gone on to professional dance careers.
Tickets: $13 in advance, $16 at the door, $11 for seniors and children under 12. Visit CuppettPAC.com or call 703-938-9019 for more info.