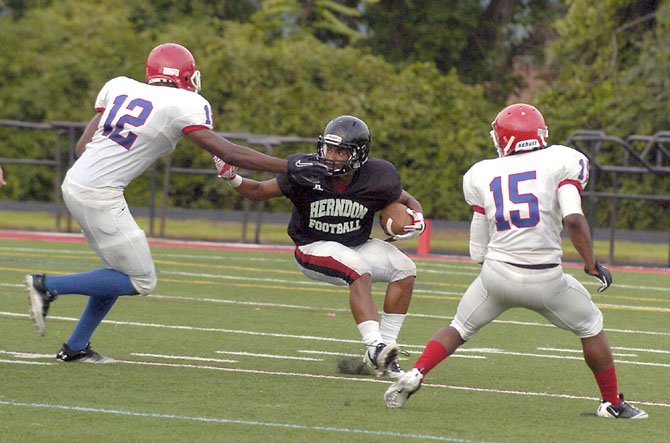 Herndon — Three penalties, two runs for negative yardage and an incomplete pass put the Herndon football team in a fourth-and-35 hole on its own 20-yard line during the opening drive of its Aug. 23 scrimmage against T.C. Williams.
After the rough start, things quickly got worse for the host Hornets as TC blocked the ensuing punt and took over at the Herndon eight. Three plays later, the Titans cashed in with a touchdown pass.
Much like each of the last two seasons, the Hornets found themselves facing adversity. On this night, Herndon overcame a 9-0 deficit and led in the fourth quarter before eventually falling short against the Titans. Under first-year head coach Brian Day, the Hornets are hoping their resiliency carries into the regular season and beyond.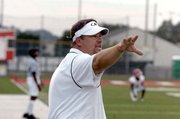 DAY, 37, takes over at Herndon after spending last season as an assistant coach with Division 6 state runner-up Centreville. Prior to the 2011 campaign, Day spent nine seasons as an assistant coach with Westfield. After spending a decade with Concorde District powers, Day has the task of turning around a Herndon program that went 3-17 in the last two seasons, including 0-10 in the Concorde, and hasn't had a winning record since 2008.
"In my opinion," Day said, "the hardest part when you're trying to change a program is there's a moment somewhere along between the off-season and now where you're literally sitting on top of a pin and you're going to go one way or the other, and the belief system is either going to kick in and that's going to be their new value system—their new way of handling adversity—or you're going to revert back to what you know. I think a mark of a good coach is to get that out of them. We're going to find out if I'm a good coach or not."
Day is a 1993 graduate of Fairfax High School, where he was a standout quarterback for then-head coach Tom Verbanic, who Day later coached with at Westfield. During Day's time at Westfield, the Bulldogs won state championships in 2003 and 2007.
"I really believe I've been mentored in such a way where I've truly seen a guy (Verbanic) get the most out of kids, of anybody in this area," Day said. "He's a legend…I've seen what he's done and I know it can be done."
So far, players say they're buying in to their new head coach.
"It's pretty exciting," senior defensive lineman Heimad Wanda said. "I think we can do some new things…all we've got to do is just follow the coach and we'll be good."
Offensively, Herndon's top two threats are running backs Denzel Weaver and Darrius Hicks. Day said Weaver, a senior, has the potential to play at the next level.
"He's a pro-style running back," Day said. "He's a one-cut, shoulders-square [kind of runner]…He's a potential college running back…There's no doubt he's the undisputed leader on this team. When he talks, kids listen."
Weaver said maintaining a positive attitude within the team will be important toward turning around the program.
"If we stick together and play together as one, and we don't turn on each other, I think we'll be all right," Weaver said. "Coach Day, he takes care of us and he loves us…He yells at us, [but] we know he loves us because that's why he's yelling at us…Last year, we had team arguments and team fights. We always would turn on each other and get frustrated…If we don't do that, I think we'll be all right."
Hicks, a junior, is a threat out of the backfield and on special teams. He's also a cornerback on defense.
"The Hicks kid is an explosive-type runner, which is why he's our [other primary weapon]," Day said. "That's that kid you want where he's a change-of-pace back."
Senior Zach Goldsby and sophomore Ryan McLaughlin could see time at quarterback. Defensive back/receiver Harrison Craddock, a senior, and center Brandon Timbrook, a senior, are also expected to be key contributors.
"I think we can do some new things … all we've got to do is just follow the coach and we'll be good."

—Herndon senior Heimad Wanda about first-year head coach Brian Day
HERNDON WILL OPEN the 2012 season at Langley at 7:30 p.m. on Thursday, Aug. 30. The Hornets' home opener is Sept. 7 against South Lakes. Herndon opens district play at home against Centreville on Sept. 21.
Day said the Hornets have a goal of making the playoffs.
"Winning isn't common," Day said. "You've got to do some things, you've got to go through the ups and downs. There's got to be some trials and tribulations. If you ever talk to those guys that are in the playoffs year in and year out…they've all been through it. You've got to go through some things to get through [to] the other side and make you better. If you don't go through adversity, you're never going to be as good as you could."