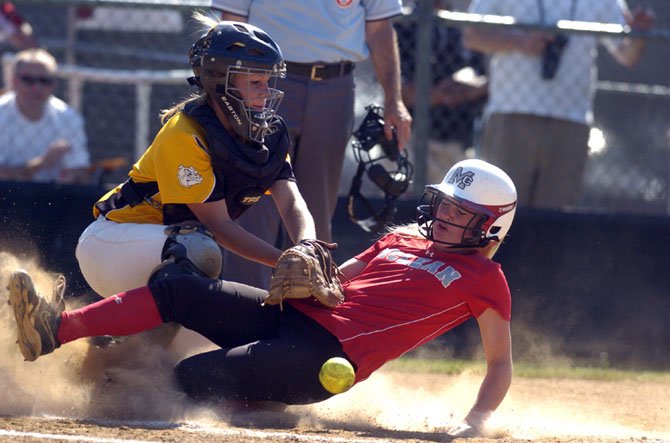 McLean — Over the course of the high school girls' softball season, the McLean Highlanders have shown upward progress and gotten better and better. There have been a few lopsided losses to some exceptional opponents, but the Liberty District team has consistently responded with strong bounce-back games and improved play.
All things considered, this spring's Highlanders have displayed both fortitude and talent, with an 11-4 overall record.
"We are having an up and down season so far," said McLean head coach Maurice Tawil. "But, we have progressed since the beginning of the season."
One of the team's worst losses came two weekends ago at home on the afternoon of April 21 when McLean lost by a 12-0 score to perennial metropolitan private school power Bishop O'Connell of Arlington. The Highlanders had struggled in a similarly lopsided loss earlier in the season, a 15-3 Liberty District home setback to Stone Bridge on March 26.
Following the defeat to Stone Bridge, McLean responded with an impressive six-game win streak. Thus far, in similar fashion, Coach Tawil's squad has won its two games since losing to the Knights of O'Connell - a 5-3 victory at Stone Bridge, the same team which beat the Highlanders by 12 runs in late March, and a 12-2 district home win over Marshall last Friday night, April 27. The win over the Statesmen improved McLean's district record to an outstanding 8-2.
At the plate against Marshall, McLean received multi-hit games from junior pitcher/first baseman Lauryn Hahne, senior outfielder Mary Spulak, and junior catcher Maddie Moore, along with a home run from senior first baseman/outfielder Allison Wilhelm. And in the prior game win over Stone Bridge, Hahne's strong pitching helped lead the way for the Highlanders.
McLean's district losses have come to Stone Bridge (in the first meeting with the Bulldogs) and Madison. The setback to the Warhawks, by a 5-3 score, came at home on April 13 and snapped the Highlanders' six-game win streak. Madison, last Friday night, saw its own win streak of eight games snapped with a loss to Stone Bridge.
McLean is scheduled to play the Warhawks in a second meeting on May 8 at Madison. That game could go a long way in determining which of the two rivals will finish first in the regular season district standings and hold top seeding for the upcoming district playoffs.
This week, McLean was scheduled to play three district games - at South Lakes on Monday, April 30, home against Fairfax on Wednesday, May 2, and at Jefferson High this Friday night, May 4 at 6:30.
THE REGULAR SEASON is rapidly coming towards an end with just five games remaining, including the three this week. The Liberty District tournament is scheduled to begin with first round games on Wednesday, May 16.
"We still believe that we will be playing our best ball by season's end," said Tawil, who led McLean to its' first-ever Virginia State AAA title just two years ago. "So we still expect to contend for the district and [Northern] Regional titles."
The team's top players have been Wilhelm, a team captain, and catcher Moore.
"Both players possess power, hit for average and hit third or fourth in our line-up," said Tawil.
The Highlanders have received a solid season from sophomore right fielder and leadoff hitter Christi Geisler, whom the coach said has exceeded expectations with her fine all-around play.
"She has a combination of speed and power and adds a dimension by being a [slap hitter]," said Tawil.
In the field, McLean has made teams earn their runs. Having exceptionally good seasons with the gloves are senior second baseman Tina Anwyll and outfielder Spulak, whom, like Wilhelm, serves as a team captain.
Handling the pitching duties have been Hahne, sophomore Rachel Wiener, and freshman Maddy Witchey.
Other members of the Highlanders roster are junior shortstop Grace Henry, freshmen Sami Youaw and Erin Calpin, and sophomores Nikki Slade (outfield) and Catherine Overberg (infield).