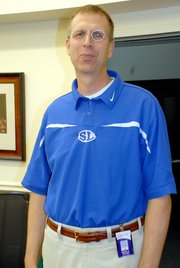 After 31 years as teacher and administrator, South Lakes Principal Bruce Butler is retiring. Butler's last day will be June 29.
Butler came to South Lakes as an assistant principal in 1998 after being a science teacher and then assistant principal at Herndon High. In 2005, when then-principal Realista Rodriguez retired, Butler applied and was selected for the post.
"When Rodriguez retired, it seemed like a logical challenge," said Butler referring to his decision to apply to be South Lakes' principal seven years ago. "Outside of family, being principal here has been the greatest, most rewarding experience. It has been unbelievably engaging and rewarding."
During Butler's tenure as principal, South Lakes was faced with some high profile challenges and some day-to-day triumphs.
In 2007, Fairfax County Public Schools began holding town hall meetings to discuss the re-drawing of South Lakes' boundaries. During these meetings South Lakes' low test scores and the high number of students receiving free or reduced lunches, an indicator of poverty, was criticized. FCPS decided to re-draw South Lakes' boundaries despite the opposition. Since 2007, enrollment has increased by nearly 800 students.
At the same time as the redistricting debate, South Lakes was undergoing a $48.2 million renovation. Renovation altered the interior space from the ineffective "open classroom" design of the original construction to a more conventional and less distracting classroom space. Renovations were complete in time for the 2008/09 school year.
The International Baccalaureate program, a rigorous pre-university course of study offered at eight FCPS high schools, has continued to grow. Every year students transfer into South Lakes to take part in these classes.
Butler has also attracted highly-skilled and motivated teachers to the school, such as the teacher of the Geo-Spatial Information Systems (GIS) class. This college-level course was offered for the first time at South Lakes this year. The former science teacher in Butler shines through when he talks about this newest addition to South Lakes' curriculum.
During the year-long class, students learn about the GIS program and design a project. As the school year wraps up, the GIS students are currently putting the finishing touches on their projects which include topics such as analyzing the scale of destruction of a nuclear blast using projected wind patterns, the impact of sea-level rise on agricultural production in the Chesapeake Bay region, and tornado density maps. On May 23, the students will present their projects to George Mason professors. Students who successfully complete the course will receive college credit.
"Some of these kids have changed what they want to do in university because of this class," said Butler.
Butler says the spirit and kindness of community, give him hope.
"We've made some great strides as a school. The key has been the dedication of the teachers, our incredibly strong assistant principals, the parents who contribute so much, and the spirit of our kids," said Butler. "The kindness of the community and the kindness of the kids is inspiring and an affirmation. It gives me great hope for the future."
Butler said that he will continue to work with FCPS, not as an employee, but as an adviser and liaison for other county school renovation projects. FCPS will begin the hiring process by holding a community meeting with Cluster VIII Superintendent Fabio Zuluaga.