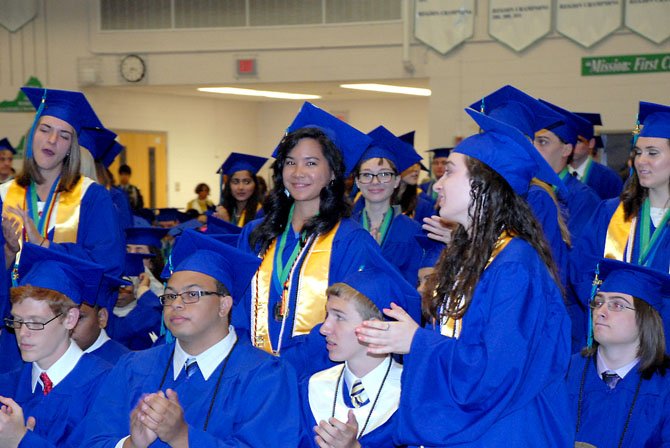 On Thursday's South Lakes' Class of 2012 Graduation Ceremony, student speaker, William Cochrane evoked memories of the senior class' Homecoming pep rally cheer. In the cheer the students stomped their feet and waved their hands to simulate a roller coaster ride – an apt metaphor for the ups and downs of the high school experience, said Cochrane.
"Our roller coaster ride is over. As we walk through the doors, we will be embarking on another ride. No matter where that ride takes you, do not forget South Lakes' infectious spirit of celebration," said Cochrane, exhorting his classmates to carry with them the memories of academic and social celebrations had at South Lakes.
Assembled in blue graduation gowns, 460 students graduated Thursday from South Lakes. Of those 460, nearly a quarter, or 105 students, were International Baccalaureate full diploma candidates. The International Baccalaureate is a rigorous pre-university course of study offered at eight Fairfax County high schools, including South Lakes.
The Class of 2012 is the first class to graduate from South Lakes following redistricting in 2008. The contentious process expanded South Lakes' boundaries and added nearly 800 students to South Lakes' roster.
Senior Class Principal Chad Lehman opened the ceremony with thoughts about what the Class of 2012 has learned in its four years at South Lakes. "You have learned how to excel academically, commitment to service, to remove your hat and if you don't have anything nice to tweet don't tweet anything at all," said Lehman.
The ceremony continued with welcoming comments from Abigail Reed, 2012 class president. "We became an unstoppable team of friends," she said.
Each year South Lakes presents the Faculty Award. This award is given to a student who best exhibits the qualities of scholarship, leadership and service. In honor of South Lakes' Principal Bruce Butler, who is stepping down on June 29 after 31 years as educator and administrator in Fairfax County and 14 years as assistant principal and principal at South Lakes, the faculty award was renamed the Bruce Butler Faculty Award.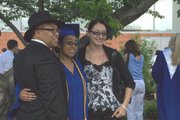 From among seven finalists, Chris Sheppard was chosen for the 2012 Faculty Award. Butler jokingly referred to Sheppard as the mayor of South Lakes. Butler continued with the presentation of Sheppard saying that "he is a student leader, with countless hours of service and the ability to strike up a conversation with just about anybody," said Butler.
South Lakes' English teacher Ronald Smith gave the keynote address with humorous memories of members of the graduating class and a reminder that the "world out there needs leaders. That is your challenge."