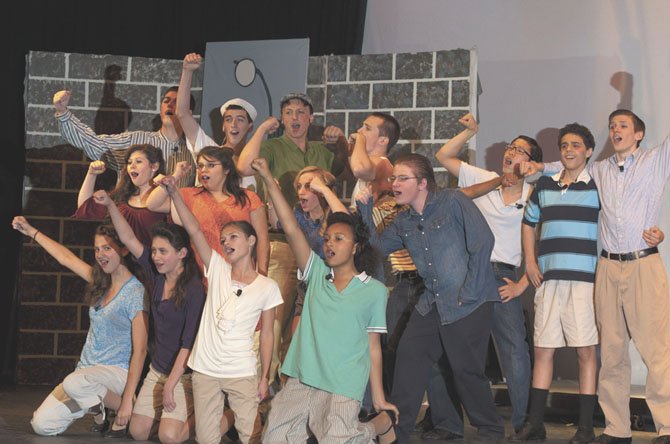 Potomac — Pop standards such as "My Funny Valentine," "The Lady is a Tramp," "Johnny One-Note" and "I Wish I Were in Love Again" will be bursting from the McLean School as "Babes in Arms" hits the stage on May 4 and May 5. The 1937 musical tells the tale of a young man who decides to put on a show with his friends to avoid being sent to a work farm. Even though the play displays a life far different from life in Potomac in 2012, the 75-year-old Diamond Anniversary show has universal themes and numerous familiar tunes. The play will be performed at 7 p.m. at the McLean School, 8224 Lochinver Lane, Potomac. Tickets are $10 at the door.
Set at a summer stock theatre, "Babes in Arms" is the tale of a group of young apprentices and their conviction to mount an original show while dodging the underhanded attempts of the surly theatre owner who tries to thwart their efforts as often as he can. More impediments appear with an over-bearing stage mother of a gorgeous ex-child star and the inflated ego of an abysmal southern playwright. But the show must go on — and the plot thickens with romance and reconciliation.
Director Greg Mugione, performing arts department chair at McLean School said," I chose 'Babes in Arms' because it is my favorite musical — the first musical I ever performed in. One of the reasons it is my favorite is due to the songs composed by Richard Rodgers.
They contain such beauty and lyricism, yet at the same time, evoke a tender playfulness. It has been so rewarding teaching the students how to phrase these fun, vocal lines while crafting the right amount of emotion necessary to give each song its own special characteristic."
More than 40 students are involved in the show as cast and crew. Junior Jenny Novick and senior Nate Marsh admit being challenged by the choreography, but each has enjoyed the entire cast working together. Nate states,
"The show is about prevailing through struggles and believing things will work out if you keep working toward your goal," Marsh said.
Novick agreed: "There are many life lessons in the show, but I like the theme that one must keep on believing that things will work out."
The choreographer is Abby Olson, sound designer is Jonathan Tyson, lighting designer is Lance Levenson and costumes were created by Olga Fenning.
"Many of the students are in our choral program, while others are members of the Jazz Band," Mugione said. "There is a lot of dancing and choreography throughout the musical and most of the actors do not have dance backgrounds. I was so proud of the dedication these students have had while learning the routines."
He continued: "The most challenging aspect for this show involved timing. As it is a musical comedy spawned off the Vaudeville-era musicals, there are many slap-stick jokes and "rubber chicken" gags that need to occur at just the right moment to get the biggest laugh from the audience."