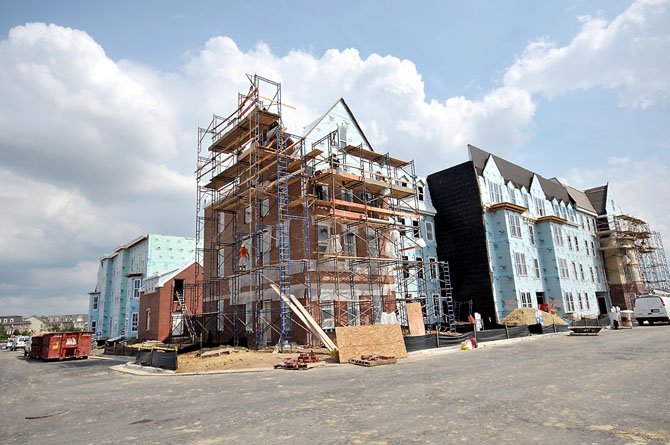 Alexandria — Watching the Potomac Yard project unfold is an amazing and captivating activity. Everyday motorists driving north and south on Route 1 near the Monroe Avenue Bridge can see the changes going on all around them.
The lower half of the 300-acre project, some 164 acres, is under construction and has been on and off since 2004. It stretches south from the Target store parking lot along the rail lines to an area on the west side of Braddock Station.
The land was bought in 2004 by Pulte Homes and later developed under the auspices of Pulte Homes and Centex, two national home building companies. They are now merged into Pulte Group, which is building about two thirds of the south Potomac Yard project, stretching from East Glebe Road to the Monroe Avenue Bridge.
Stephen Collins, director of entitlement for Pulte Group, said the project was to go forward in 2005, but was delayed in the mid-2000s due to the softening economic environment. It was begun in earnest in 2009 and Pulte expects to finish in 2019 or 2020, he said.
To prepare the site, there had to be an enormous movement of earth, Collins said. The rail bed of the old Potomac Rail Yards was some 10 feet below the surface of the Route 1 and Pulte has trucked in some 500,000 cubic feet of earth to level the area. As it has laid sewers, drains and built streets and roads, the giant mountains of earth are slowly being reduced.
On the right as a motorist drives north is a project of town homes and condominiums. New buildings are going up each day, part of the some 1,300 residences that Pulte is building. The town homes in this housing sell for $700,000 and the condominiums go for $400,000. Pulte has not put a price on residences it is building in other parts of the project.
Collins said that by the first week of February Pulte has sold 42 condominiums and 14 town houses. In fact, the first town home was occupied in October, he said.
On the left as a motorist going north leaves the Monroe Avenue Bridge, there is a fenced area of green grass surrounded by newly planted trees. The grass has been sodded and sodded again; rolled and trimmed. These are new soccer fields that Pulte laid out and will give to the City of Alexandria when the project is complete.
Why has the soccer field been planted and manicured with such care? "Because we don't want a sea of mud when playing starts," said Gwen Wright, chief of Alexandria's development division. Under its agreement with the city, she said, Pulte has funded a range of public improvements including the Monroe Avenue Bridge, several parks, play grounds and scenic pools and ponds. It will contribute $3 million to the city's affordable housing program.
Collins said the pools serve a second function of collecting sediment and reducing phosphorous and nitrogen. The main park is being built along the east side of the development from roughly the line of the Target store's parking lot south to the Morris Avenue Bridge. Collins calls it a "world class park" that will have running and walking trails, playgrounds for children, small areas to sit and enjoy watching the trains go by and a series of ponds and physical work out stations. It also has a filtration system buried under the surface. The park will be open to the public as well as to Potomac Yard residents.
Pulte is responsible for building a street system within the south project. Some streets will be a continuation of streets from the west of Route 1 like Custis Avenue. Pulte is building a new street, Main Street, which will run south from East Glebe Road, under the Monroe Avenue Bridge along the rail tracks south to form a cul-de-sac just west of the Braddock Road Metrorail Station.

Pulte plans to build 66 town houses, 58 condominiums and 275 rental apartments on 17.5 acre site south of the Monroe Avenue Bridge and west of the Braddock Road Metro Station. There will also be a small retail store area and a dog exercise park. Several members of Delray and other citizen groups testified at a hearing last year that the parking for this area is not adequate and could produce a problem if motorists seek to park in side streets in Delray.
There is already a city dog exercise area across Monroe Avenue from the Pulte site.
Pulte has responsibility to remove two bridges on Four Mile Run. Pulte only builds homes and sold off Land Bay G to another developer and later sold 750,000 square feet of land in the Land Bay H.