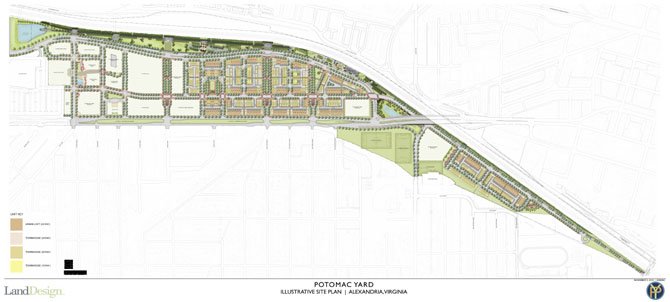 Alexandria — First in a three-part series about Potomac Yard development.
The City of Alexandria is building what will be a small city on the old Potomac Rail Yard that could bring as many as 8,000 new residents over the next 20 years and become a commercial center that could outstrip Crystal City, Ballston, the Pentagon Mall, and 14th Street Northwest.
Planners believe it will draw thousands of office workers and customers from other northern Virginia communities as well as Washington and Maryland. Crystal City in its prime years attracted 60,000 workers a day to its offices and the new development's capacity could exceed that number.
Called the "Potomac Yard" projects, the four main sections of this undertaking are laid out on 295 acres of land between the Metrorail and railroad tracks and U.S. Route 1, at the center of high density, high income communities in Old Town, Delray, Rosemont and Arlington. Ronald Reagan National Airport abuts the eastside of the development and there are currently rail, subway and bus connections to Washington and the region.
The city plan divides the project into what it calls "Land Bays," numbering the Land Bays A through M, but in fact there are four main projects.
One, named Potomac Greens, is nearly complete and includes 244 townhouses, most occupied, 20 acres of open spaces and a small local shopping area called Potomac Plaza.
The other three projects will include residences, offices, public parks, athletic fields, a Metro Station and perhaps a school. They are in varying stages of planning, construction or site preparation. One structure, a firehouse in distinctive dark red brick on Route 1 was completed in 2009 and houses some 65 units of affordable housing plus Engine Company TK.
Pulte Homes, one of the developers, was a partner in the construction of new bridge on Route 1 over Monroe Avenue and has finished a connection road that parallels Route 1 from the Monroe Bridge to the Arlington County line. It also paid a significant share of the firehouse construction.
Potomac Yard is the last major parcel of land in Alexandria, a city that has successfully developed former military bases like Cameron Station and Eisenhower Avenue. The open land at one end of Eisenhower Valley attracted the U.S. Patent Office to transfer its headquarters to Alexandria and also houses the United States Court complex and the extensive Carlyle high rise apartment developments. Cameron Station, the one-time military commissary, was developed into a townhouse community.
BUT THE POTOMAC YARD plan is more problematical. It is a far larger undertaking, nearly twice the number of acres as Cameron Station, in a largely different economy and in an area where near traffic paralysis occurs with disturbing regularity. If a development brings perhaps 5,000 to 8,000 new residents does that mean 5,000 to 10,000 cars traveling streets that are already crowded and thousands of cars visiting the offices, stores, theaters and restaurants?
Jeff Farner, deputy director of Alexandria's Planning and Zoning, said that he thought the importance of Potomac Yard "is much more than numbers of people and square footage. This is a very rare opportunity for a jurisdiction inside the beltway to actually extend segments of the community."
He and members of the planning team, Gwen Wright, chief of the Development Division and Sandra Marks, chief of transportation planning, believe they have set out a development protocol that can manage the influx of cars, visitors and residents by requiring transportation and environmental completion before construction of offices and residences.
Farner said that "one of the challenges with this site, which was a brownfield site, necessitated a lot of infrastructure; laying a sewer line from this site to the plant, building the bridge and roads and street complexes; a lot of infrastructure that has to go in place to make it ready for development."
The primary factor to make this project work is to build a new Metro Station between Reagan National Airport and Braddock Road Metro Station.
Alexandria City Council created a tax district to finance a Metro station which it proposed would be between the airport and Potomac Yard. That is what is now unfolding every day in North Alexandria.
THE PLANNING for how to develop Potomac Yard began in the late 1980s when the Richmond, Fredericksburg and Potomac Railroad began to explore development ideas since the area was no longer used as a rail yard. At the same, Alexandria was updating its 1974 Master Plan.
The first plan was never acted upon by the City Council. It proposed building a Metro Station in the middle of Potomac Yard, allowing some 16 million square feet of development designed as sort of extension of the communities nearby — Del Ray, St. Elmo, Lynhaven and Hume.
Among other proposals was Jack Kent Cooke's idea to locate the Redskins Stadium there and another plan to attract the U.S. Patent and Trade Office. The Patent office later agreed to move to the Eisenhower Avenue site.
In 1999, the City Council approved an updated Potomac Yard /Potomac Greens Small Area Plan and rezoned the land to a Coordinated Development District. This is the framework that is unfolding.