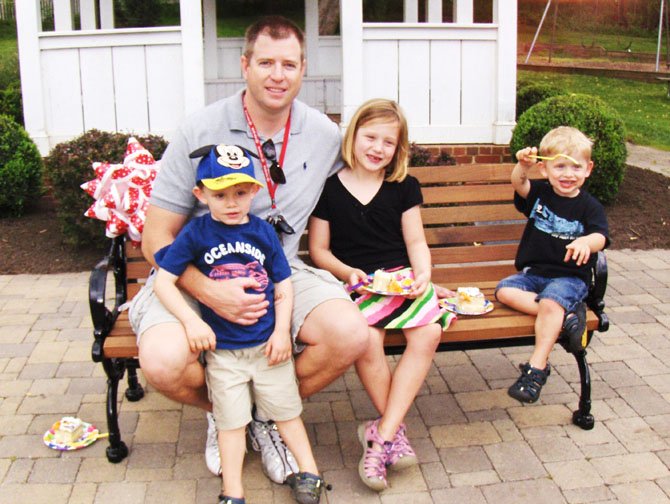 Centreville — With balloons, two cakes and a bench-dedication, residents gathered Saturday afternoon, April 21, in the town park to celebrate Clifton's 110th birthday. Attendees included state Sen. George Barker (D-39th); Peter Noonan, FCPS Assistant Superintendent, Instructional Services, and former town Mayor Jim Chesley, all of whom live in Clifton.
Kicking off the event was the dedication of a bench by the gazebo to longtime Clifton residents Paul and Louise Longerbeam. Louise died 23 years ago, and Paul died three years ago, but both left their mark on the town.
"They were neighbors of my mother-in-law's," said Quinn McGrael, who organized the dedication. "Louise's family has been in this area for well over 100 years. Paul came here in 1932 at age 13. He had to support his family after his father left, so he worked on local farms for a dollar a day."
Eventually, he and Louise met and fell in love and were married 40 years. "Paul was known by many in the 1950s and '60s as the best carpenter in Fairfax County," said McGrael. "He was also a selfless person. After working all week, he'd still help people and give them advice for free. He was also instrumental in the building of the original Clifton firehouse and recreation hall."
McGrael said Louise was also giving and charitable. "She baked pies and brought food to poor families in the area," he said. "She gave them presents at Christmastime, donated clothing to them and even gave them money to make ends meet."
Therefore, said McGrael, "I thought people should recognize all they did, and I wanted them to be remembered." So now they will be, by virtue of an inscribed plaque on the bench. People who knew the Longerbeams, as well as the Clifton Betterment Association (CBA), contributed the approximately $900 that funded the bench's purchase and installation.
"Paul and Louise spent much of their lives helping others because they believed it was the right thing to do," said McGrael. "So we dedicate this bench to express Clifton's gratitude for their decades of public service and for the many lives that have been touched and improved by this most generous couple."