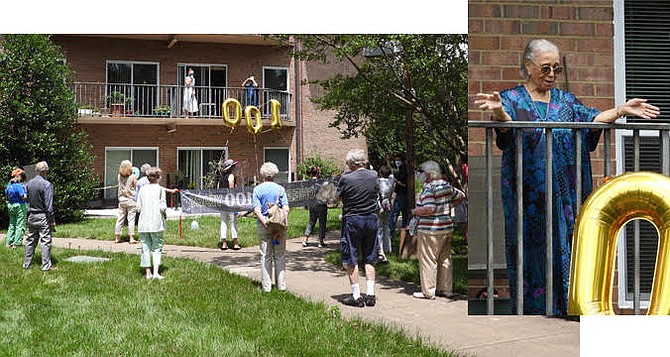 The "Roarin' Twenties" were just getting started when McLean resident Lucille Quinn was born. Her indomitable spirit and enthusiasm for life were evident to all she met, including most recently, her many friends at the Lewinsville Retirement Residence where she has lived the last two decades of her ten.
As she approached her actual birth date, June 21, it became clear to her friends that the pandemic was going to rule out the typical celebration. Determined friends from nearby Lewinsville Presbyterian Church gathered (at six-foot intervals) beneath her balcony with balloons, cake, banners and flowers to make sure the day was remembered properly, and Happy Birthday was sung accompanied by a trumpet!
Quinn, a North Carolina native and one of 10 children, moved to Washington, D.C., in 1938 in pursuit of a government job. After a short stint with the IRS, she accepted a "more interesting" offer from a Georgetown dress shop. Eventually, that experience led to her own business in Georgetown, "Lucille's Fashions." But somehow, she found time to work evenings as a substitute teacher preparing others to enter the workforce.
Lucille Quinn raised three children from her first marriage, but only one—a daughter in Massachusetts—survives today. Her first and second husbands have predeceased her.
When asked the secret of her long life, she was quick with her response. "There is no secret," she said. "Be good to yourself, treat other people the way you want to be treated, and when faced with a decision between right or wrong, try always to choose the right."